Ehrlichiosis is a disease which we have usually heard to be found in animals. Yet, this disease has found ways to haunt us, humans, also now. If you desire to know more about this disease, go through this article once. It attempts to furnish you with all possible information about this problem.
Human monocytotropic ehrlichiosis was first reported in the United States in 1987. Now, after 20 years it has become the most prevalent life-threatening tick-borne disease. The emergence of ehrlichiosis has been diagnosed as the cause of human infections. This is because animal reservoirs and tick vectors have increased in numbers.
Also, humans have inhabited areas where reservoir and tick populations are high.
Ehrlichiosis is a rare infectious disease that is caused by bacteria or a bit of a tick in humans. Human Ehrlichiosis is usually caused by three different species:
a) Ehrlichia chaffeensis
b) Ehrlichia ewingii, and
c) Ehrlichia species.
These bacteria are transmitted to humans via the bite of an infected tick called Lonestar. It may even prove harmful if not cured.
How Is Ehrlichiosis Transmitted?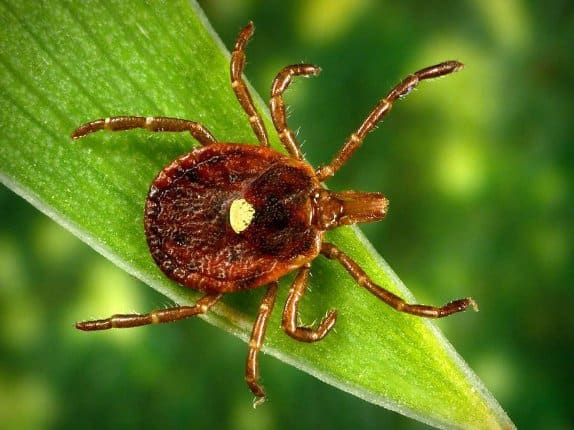 Ehrlichiosis is caused by a bite from an infected lone star tick. But, it can also be transmitted by dog ticks or deer ticks. Lone star ticks are common throughout the South Eastern and Central United States. The females have a white spot on their back.
Symptoms Of Ehrlichiosis
The symptoms of this infection tend to develop some weeks after the person is bitten. The tick bite is painless and many people also do not even remember when they might have been bitten by the tick.
The following is a list of symptoms seen with this disease. Yet, it is important to note that the combination of symptoms varies from person to person:
Fever
Headache
Chills
Malaise
Muscle pain
Nausea / Vomiting / Diarrhoea
Confusion
Conjunctivas (red eyes)
Rash (in up to 60% of children, less than 30% of adults)
Ehrlichiosis is a serious illness that can be fatal if not treated and at the right time. Severe clinical experimentation may include difficulty in breathing, or bleeding disorders. The estimated fatality rate that is, the people who tend to die as a result of this infection is 1.8%. Patients who are treated early may recover fast.
But, people with a severe infection may need intravenous antibiotics or prolonged hospitalization.
Another distinguishing feature of this infection is painful rashes. They erupt all over the skin of the affected person. This particular symptom is not mandatory. It depends on the skin type of the person completely. Yet, due to the presence of rashes in the body, it may lead to a lot of itchiness and discomfort to the person also.
Diagnosis Of Ehrlichiosis
Usually, the diagnosis of ehrlichiosis is based on clinical signs and symptoms. Later it is confirmed using specialized laboratory tests. The treatment for this infection should never be left pending or be withheld. If, by chance, the treatment is delayed; serious conditions can prevail.
Further, it may even prove fatal for the affected person. There are certain ways to diagnose this problem:
1. Physical Diagnosis
Usually, the symptoms vary from person to person. This makes the diagnosis of this infection difficult. The diagnostic tests do not reveal the illness until 7-10 days of the illness have passed. Once the illness becomes stagnant then it becomes difficult for the doctors to solve it.
Thus, healthcare providers tend to diagnose this problem based on clinical suspicion alone. The doctors tend to look for general information. This includes whether the person was recently at a place exposed to ticks or not. Such information helps the doctors to decipher the cause of the problem.
The doctors also tend to look at the blood cell count. If there is a low platelet or low white blood cell count then it may point out the prediction of ehrlichiosis. Once a diagnosis is made, specialized laboratory testing confirms the diagnosis of ehrlichiosis.
2. Laboratory Detection
The blood sample is tested by polymerase chain reaction (PCR). This is done to determine if the patient is suffering from ehrlichiosis. During the first few weeks, the test result may be negative. Yet, that does not rule out the probability of the person having this disease. It is known that the infection starts reflecting in the body after 10-12 days.
If morulae is up to 20%, in the cytoplasm of the white blood cells then it shows that the person is suffering from this disease. Once this is detected then preventive and remedial actions should be taken immediately.
There is another way to detect the same. During the initial weeks, the body starts to produce antibodies in the body. They are against the bacteria E. chaffeensis. If the antibody level of creation and production is elevated, it proves that the body is trying to fight the foreign bacteria. Yet, the presence of ehrlichiosis can be confirmed only by a blood test.
Natural Remedies To Cure Ehrlichiosis
It is difficult to catch this problem early. Thus, the remedies for ehrlichiosis are also restricted. Yet, some of the tried and tested ones are specified below:
1. Ginger
It helps to increase the immunity of the person. It helps to increase the white blood cells in the body. This will help to fight the problem.
 How To Use Ginger?
You could cut some fine ginger slices and infuse it in warm water. Once that is done, you could add some lemon drops to it for flavor and enjoy the ginger tea. Additionally, you could take a spoon of ginger juice mixed with warm water every morning.
2. Licorice
This will also help to regulate the immune system of the person. This also helps, soothe the infection fast.
How To Use Licorice?
You can consume licorice tea along with a tinge of lemon in it twice a day.
3. Boric Acid
This acid helps to relieve you from the itching and pain caused by the tick. This can also be applied as an ointment on the infection for instant relief. Yet, the relief is not long lasting.
How To Use Boric Acid?
This has a very simple use. You can apply it as an ointment on the infected area every evening and morning.
4. Turmeric
Some amount of turmeric mixed with warm milk is considered the best remedy. It relieves a person from itching and pain in the infected area.
5. Tea Tree Oil
Some amount of tea tree oil can be used as an ointment over the infection. Yet, if it itches or results in some kind of rash then you should immediately consult your doctor.
6. Oatmeal Bath
Bathing the skin in colloidal oatmeal also provides relief. Oatmeal is a humectant. It helps moisturize skin, and it contains inflammation-quelling compounds.
How To Use Oatmeal?
Add one to two cups of colloidal oatmeal to warm water and soak for half an hour. Be sure not to use hot water, as it can make the itchiness worse.
7. Baking Soda
You may also use baking soda to remove the itchiness on the infected area. It is a great home remedy for tick bites and rashes caused thereby.
 How To Use Baking Soda?
Use a cup of baking soda in a cool bath and soak for about half an hour for maximum relief. But, be careful not to use it in great quantities as it may also be harmful if not used with caution.
Treatment Of Ehrlichiosis
Once this particular disease is diagnosed in humans, we try to solve the problem. This particular infection can be treated by various methods, both clinical and natural. Some of the clinical methods are mentioned below:
Doxycycline is considered to be the foremost treatment for humans. It should be initiated as soon as the problem is suspected or diagnosed. Doxycycline is considered to be the most effective. It tends to prevent severe complications from developing. Patients should be usually treated at least 3 days after the fever subsides. The standard duration of treatment is about 7-14 days. Yet, some patients may continue to experience fever and headache even after the infection has subsided.
There are instances where a person's body is resilient to doxycycline. In that case, physicians refer some other antibiotics such as Rifampin. It has proven to be effective against this disease in laboratory testings.
Yet, it should be noted that this particular antibiotic is not that effective. Thus it should not rely upon much. Other antibiotics are not considered effective against ehrlichiosis. Also, the use of sulfa drugs during acute illness may worsen the severity of the infection.
Precautions To Be Taken
Rather than treating the infection, later on, it is better to prevent it. Lifestyle changes and certain precautions help to prevent ehrlichiosis. Some of the measures are mentioned below:
Avoid long grasses and dense bushy areas while hiking.
Wear light-colored clothing that helps to notice ticks.
Use insect repellents.
Wear clothing to cover the skin.
Avoid sandals or open toe shoes.
Stay on well-beaten paths as ticks prefer grassy areas.
Ensure to inspect your body when you return from the garden or outing.
Make sure to do a daily inspection for ticks on your pet.
FAQ's
While reading the article there might be some questions which may have erupted in your mind. So, as far as my experience goes, below mentioned answers may solve all your questions:
1. Can Ehrlichiosis Re-Occur?
Usually, this particular disease once rectified does not happen again. This is because there are already antibodies present in the body to fight this disease. Yet, there are also instances wherein, the symptoms of ehrlichiosis may erupt again.
2. How Long Does Ehrlichiosis Last?
As per the studies, if caught early, this infection lasts for about 7-15 days. Further, its symptoms subside in 1-2 days also. Yet, when the infection is diagnosed at a later stage then it may last for 3-4 months.
3. Is Ehrlichiosis Curable?
Ehrlichiosis is curable and can be solved within 7-14 days. But, if not caught early, the problem may last for a long time. It may even leave some long-term effects/ rashes on the body.
4. What Are The Long-Term Effects Of Ehrlichiosis?
These complications can include:
1. Organ failure, including kidney and liver failure
2.  Respiratory failure
3. Heart failure
4.  Falling into a coma
5. Seizures
So, it is imperative to catch this problem and treat it with proper care and caution. Otherwise, it may lead to severe complications and may also prove to be fatal.
Also, a strong recommendation from our side is that if you have any issues about this problem, immediately refer the problem to the doctor. He may guide you in a better manner thereby providing relief to you.Further, take note of this article and be assured that you are on the right track.