We all are aware of this common problem of enlarged papillae. Often we ignore it as it heals on its own. Although, sometimes it could be very painful and might require some medical attention.
In this article, I will give answers to some commonly asked questions. These answers will provide you with full information and will help clear some doubts.
So, I will start with a basic question:-
What Are Enlarged Papillae?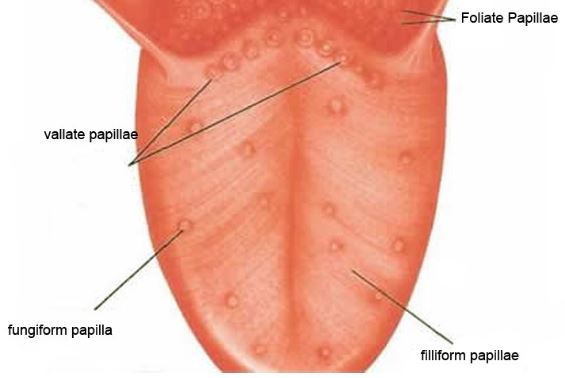 Enlarged papillae are the small growth that appears on the surface of our tongue. It is a swelling of multiple taste buds which gives an irritating and painful sensation. It is known by different names like inflamed taste bud, infected taste bud, inflamed papillae, etc.
Now, each papilla has thousands of taste buds. They give us the ability to taste our food (salty, sweet, bitter and sour). Once any papillae of our tongue get swollen, it impairs our sense of taste and leads to certain complications.
Since each papilla affects us differently, you have to be aware of their types.
How Many Types Of Enlarged Papillae Are There?
There are four types of papillae :
i. Fungiform Papillae
You know that feeling we get on the sides of our mouth after eating sour candy? This is the fungiform papillae at work. These mushroom-shaped papillae are what helps us detect sweet and sour tastes. They are scattered, but most of them are located at the sides and apex of our tongue.
ii. Foliate Papillae
Foliate Papillae are situated at the sides of our tongue. They have an elongated fold with them, generally divided into two clusters. They are the ones that help us detect the salty taste.
iii. Filiform Papillae
The abrasive coating on our tongue is filiform papillae. They are thin, long and V-shaped. They help us sense sour taste and are present in abundance.
iv. Circumvallate Papillae
These papillae are also V-shaped. They are located at the back of our tongue and tapers towards our throat. They help us sense bitter taste in our food. Most people just have 10 to 14 of these.
Is Swollen And Sore Tongue Normal During Pregnancy?
The answer to this question is YES.
During pregnancy, the immune system of a women's body weakens. In such cases, the mother's body is more susceptible to viral, bacterial and fungal infections. This causes taste bud enlargement sometimes.
If you are observing some health deterioration then kindly seek medical attention as soon as possible.
What Are The Causes Of Enlarged Papillae?
a. Excessive Smoking
Smoking is not a healthy practice. Still, many people around the world do it every day. Smoking itself leads to various kinds of serious health problems like cancer. One of its many side effects is enlarged and sour papillae on your tongue.
b. Stress
According to facts, every 8 out of 10 people deal with a lot of mental stress. It causes various health problems. It also contributes to causing enlarged papillae. If you do not allow yourself to let go of your stress, they might cause more pain.
In such cases, I will advise you to follow some stress-reducing activities every day.
c. Gastro-Intestinal Issues
Usually, people are not able to believe this fact that our body is connected in an interesting way. Whenever we have some problem in our gut, it will lead to enlarged papillae. In fact, Enlarged Papillae is one of the symptoms of issues like GERD or ulcerative colitis.
d. Infection
Whenever we eat too much hot or acidic food, it causes infection in our tongue. The food items with too much caffeine or citrus can also be the cause of it. My personal advice would be that you seek some medical treatment in such cases.
If you excessively bite your tongue, it might increase the problem.
e. Vitamin Deficiency
When you have a deficiency of vital vitamin B in your body, you are most likely to have enlarged papillae. This might be an indicator that your body requires some nutrient intake.
f. Hormonal Imbalance
All women are prone to hormonal shifts due to a menstrual cycle. These sudden fluctuations in hormone level can make some tissues extra sensitive.
For eg: An increase in prostegerone could lead to enlarged papillae. Unless there is some serious health deterioration, these hormonal shifts are normal.
g. Transient Lingual Papillitis
It is an inflammatory disorder that typically affects fungiform papillae (near the tip). They cause burning or itchy sensation on the tip of the tongue. This problem usually gets resolved in 2-3 days. Although, it might re-occur after a month or so.
h. Tongue Injuries
Another reason for enlarged papillae is a direct physical injury. It involves biting or piercing of tongue. Also, using harsh oral hygiene products or rough cleaning techniques. All these actions result in enlarged papillae.
So, far I have discussed some minor causes of enlarged papillae. Although, some people might have a serious condition than this.
If you want to confirm, please read the following symptoms and causes carefully :
1. Canker Sores
Canker sores are mouth ulcers. They are a result of bacterial propagation in the body which causes the viral infection. It is a common cause of enlarged papillae. The other wider reasons for mouth ulcers could be weak immune system and heredity.
Common Symptoms
Sores in your mouth that are round, white or gray, with a red edge or border.
A tingling or burning sensation before the sores appear.
Painful sores inside your mouth or on the tongue.
Sores on the back portion of your mouth, or inside your cheeks.
Fever
Physical sluggishness (in severe cases)
2. Oral Cancer
Most of the time, bumps on the tongue aren't serious, but some are symptoms of cancer. Cancerous bumps usually occur in foliate papillae, i.e., sides of the tongue. The most common type of cancer to develop on the tongue is squamous cell carcinoma.
Cancer can also occur at the back, or base, of the tongue. It may be harder to detect initially as there's no pain at first. It may become painful as it progresses.
Common Symptoms
Persistent mouth pain
The feeling of a lump or object stuck in your throat
Difficulty swallowing or chewing
Difficulty moving the jaw or tongue
Numbness of the tongue or elsewhere in the mouth
A lingering sore throat or hoarseness
Change in voice
If  You Have Any Of  The Above Symptoms, I Will Advice You To Consult Your Nearest  Doctor As Soon As Possible.
How To Get Rid Of Enlarged Papillae?
1. Gargling With Sea Salt Water
Mix 1 teaspoon of sea salt with warm water. Gargle with this mixture at least three times a day. It will help reduce the swelling and inflammation.
2. Eat Some Yogurt
Yogurt contains essential probiotics and helps improve gastrointestinal function. This will help you restore the balance of your body and give you relief from pain.
3. Applying Ice
Chewing ice cube or applying it to the affected area can bring down the swelling. DO NOT APPLY IT FOR TOO LONG because it will affect normal blood circulation.
4. Baking Soda
Baking soda is an antacid and anti-inflammatory agent. It will help you to get rid of the swelling caused by an acid flux in your mouth.
5. Tea Tree Oil
Mix two to three drops of tea tree oil with coconut oil and apply to the infected area. This natural oil will soothe your pain and help you reduce swelling.
6. Aloe Vera
Rinse your mouth with aloe vera juice with many times a day. It will act as an anti-fungal and anti-bacterial agent and will reduce enlarged papillae.
7. Oil Of Oregano
Oregano oil has anti-fungal properties and can help you get rid of inflammation. Apply some of it on the affected area for 5-10 minutes. (There is no harm if you swallow some of it). Rinse your mouth with warm water.Repeat it twice a day to get best results.
8. Ginger, Garlic, And Pepper
Make a juice of ginger, garlic, and pepper. Drink it 3-4 times a day. This will help you fight infection caused due to bacterial propagation.
If drinking juice is not suitable, then eat food items which are rich in these ingredients.
9. Rinsing With Honey
Honey is a very powerful antibacterial agent. Rinsing your mouth with honey, or drinking it, will work well to get rid of an infection. It will clear all the symptoms in a matter of days.
10. Hydrate Your Body
A dry mouth or a dehydrated body can also cause enlarged papillae or sore taste buds. Drinking adequate fluids every day can help reduce the irritation on your tongue.
How To Prevent Enlarged Papillae?
Avoid spicy/hot food and beverages
Stop smoking and chewing tobacco
Increase Vitamin B12 and iron intake
Avoid scraping or rubbing your papillae too much
Maintain oral hygiene
Seek medical attention immediately if the symptoms reoccur in every few weeks or the remedies do not work.
Usually, enlarged and painful papillae are not too difficult to deal with. Although, if you don't pay attention at the right time, it might cause some severity.
Any of the mentioned remedies will work to soothe your pain. But in every way, it is always wise to practice good health habits to stay away from such problems.