Pine Needle has been used for thousands of years for its various health benefits. These needles have the ability to fight with many common fatal diseases occurring across the globe.
Pine needle tea is known to boost the immunity, improved eye health, prevents heart diseases, reduces high blood pressure, prevents cancer.
The article below tells all about Pine needle tea.
What Is Pine Needle Tea?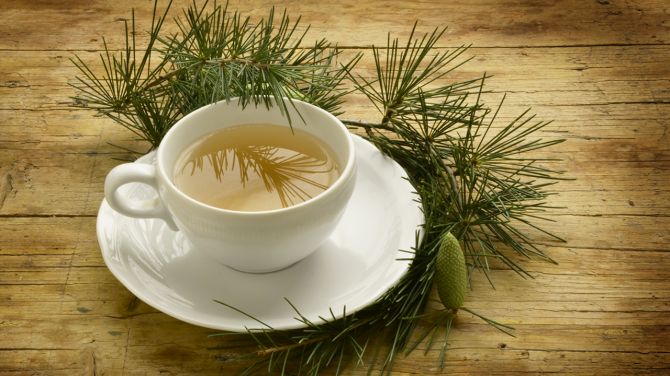 Pine needle tea is an important super medical tool used for ages by the indigenous population. Pine Needle Tea as the name says is prepared from a Pine tree.
Most of the pine trees are found in North America. People of North America consume the largest amount of pine needle tea. Although, it is available in other parts of the world too.
Pine Needle has loads of Vitamin C. This is why the indigenous population used it excessively to protect themselves in early winters.
Not only this, researchers even boast about other parts of pine needle tree too that are beneficial to cure many body ailments.
What Is Special About Pine Needle Tea?
The first vital nutrient of pine needle tea is Vitamin C. The amount of Vitamin C in it is five time the amount present in a lemon.
Vitamin C is a super antioxidant and an immune system booster too. It can also cure heart diseases, improve the eye health, heal skin conditions, etc. It can even cure scurvy.
Moroff, the pine needle tea has high fat-soluble vitamin A which is an antioxidant beta-carotene needed for good eye health, skin rejuvination and hair growth. Apart from Vitamin A and C it also has many other vital components needed for a healthy body and soul.
The indigenous population has been consuming the needle, seeds, resin, and bark of the tree for years. They praise its health-enhancing properties. Even the scientific research claims about its benefits to human health.
Health Benefits Of Pine Needle Tea
There are many health benefits of pine needle tea. They range from cardiovascular, respiratory, antioxidants, degenerative, and immune systems.
They are a result of high nutrient level present in it. Some of the vital nutrients are polyphenolic compounds, vitamins, calcium, potassium, phosphorus, and iron. Down below is a list of the essential health benefits of Pine needle tea are as follows:
1.Immune System
Pine Needle Tea is good for our immune system as it has high concentrates of Vitamin C. It has properties that strengthen the immune system by increasing the production white blood cells, promotes antioxidant properties, lowers the risk of many chronic diseases, and even speed up the healing process.
2.Eye health
Pine needle tea has Vitamin A that is good for the eyes. Although, the concentration of Vitamin A is not that high.
Vitamin A is an antioxidant vitamin that prevents oxidative stress, promotes eye health, and slow down the progression of eye diseases like cataracts and muscular degeneration.
3.Heart Health
The tea is good for the heart and thus prevents cardiovascular diseases. It does so by assisting the metabolism of lipids.
Additionally, it has anti-inflammatory properties too that prevent bad cholesterol and plaque to build in the arteries of the heart.
However, there is human evidence to prove this fact. Many clinical studies performed on animal claims about the benefits of pine needle tea on the cardiovascular system.
4.Exercise Recovery
The tea is rich in antioxidants so it will limit the exercise-induced oxidative damage. Several studies done on animals have proven this point. However, for humans how far it is true is still under question.
5.Reduce Blood Pressure
Blood pressure often results from oxidative stress which can further lead to heart attack, stroke, and other cardiovascular issues.
The pine needle tea helps to avoid all such heart issues. It has rich antioxidants like polyphenolic compounds, sterols, carotenoids that lower the pressure of blood on the cardiovascular system. This further reduces the risk of cardiovascular disease.
6.Improved Cognitive Functioning
The tea is powerful brain tonic too. Many indigenous people suffering from Alzheimer, Parkinson, and other neurodegenerative diseases have benefitted with pine needle tea.
The antioxidant in the tea lowers the beta amyloid deposition that is the formation of plaque in the brain. A plaque may disrupt the neural connection and cause neurodegenerative diseases.Thus, preventing plaque is enhancing the cognitive ability.
7.Prevents Cancer
A cup of pine needle tea can keep your body away from cancer. It has so many active nutrients that flush out all the toxins from the body.
How To Prepare Pine Needle Tea?
Making pine needle tea is easy. You just need pine needle and hot water. However, be careful to use the right pine needles. There are more than 30 varieties of pine needle. Out of them, some are toxic.
Take care to choose the non-toxic ones only. Some of the toxic varieties are ponderosa pine, balsam fir, lodgepole and Monterey pines. Never use these varieties to make your pine needle tea.
For making the pine needle tea, collect or purchase few fresh pine needles. A handful of leaves are enough for a single strong cup of tea. Pull out the brown ends or sheaths of the needle. Next, chop them into half-inch sizes. Boil a glass of water in a bowl.
Add the freshly cut pine needle to the boiling water. Cover the pot. Allow the leaves to steep inside the water for good 5 minutes. If you want a very intense taste, steep them for a little more time.
Remove the bowl from the heat and let the leaves steep for some more time. Once all the needles go down at the bottom strain of the tea. Don't add any sugar or honey to the tea for maximum benefits.
A Word Of Caution
While there are so many varieties of pine tree be cautious while choosing one. Check for the non-toxic variety only. Collect the leaves from trees that are far from the roadside.
It is because roadside trees are more prone to attract pollution, smoke, and dust coming from vehicles running on the road.
If you are not sure about which one is the non-toxic variety, prefer buying it from a store.
Women who are pregnant or are trying to conceive should never consume Pine needle tea. It is because some cases of miscarriage are reported with its consumption.
Final Talk
It is wonderful to see how a simple cup of tea can withstand such high health benefits. For a healthy mind, body, and soul try consuming the tea on a daily a basis. There are no side-effects associated with it. So, you can consume it without a second thought.
The pine needles are easily available in the store and online too. If you are resident of North America, you can yourself go and collect it. Do try out this cup of tea for an enriching feeling.