You should do a natural pancreatic cleanse once in a while.Now a days we are fond of junk food; we are consuming excessive sugars. Due to the unhealthy food habits, digestion problem arises, and this results in pancreatic disorder.
The pancreatic disorder may result in severe diseases may be jaundice, cancer, diarrhea.So, you should always adopt a lifestyle and diet that can clean your pancreas.
Your diet should be full of color. Here colorful means a variety of things to be eaten that are of different colors like different types of fruits, vegetables to be included in your diet.You should eat plenty of vegetables may be raw or steamed and drink lots of water and consume fresh juices.
We have a lot more for you in this article that will help you get rid of the disorder.
What Is The Pancreas?
The pancreas is a pear-shaped organ that is surrounded by the stomach, small intestine, liver, and spleen.
The pancreas is essential for digesting carbohydrates and fats. It is responsible for producing enzymes.
The pancreas produces digestive juices that help break the micronutrients and regulates levels of blood sugar.
Now the question arises how to cleanse your pancreas?
How To Cleanse Your Pancreas
1. Eliminate Alcohol And Tobacco
The first step to cleanse the pancreas is to eliminate tobacco, alcohol. Smoking should also be prohibited. Because these things aid in the deterioration of the pancreas.
2. Reduce Your Consumption Of Flour, Sugar, Sweet And Animal Fat
Excessive eating of sugars such as sweets, biscuits, cookies, cakes, pasta, and loaves of bread can cause pancreatic disorder, so reduce the consumption of these when you need to clean the pancreas.
If you are facing the problem, then stop eating animal fat. Meat consumption can worsen the condition.
3. Use Medicinal Plants, Herbs
There are also several medicinal plants and herbs; that will help cleanse the pancreas.
They are
Ginger Tea: Ginger tea works as an antioxidant, it is a sedative and reduces inflammation in the body, thus cleanses your body.
Green Tea: Green tea is also an excellent antioxidant. If you start drinking a cup of green tea regularly during breakfast or in the afternoon, this will help cleanse the pancreas.
Licorice Infusion: Licorice infusion is a great digestive root. It boosts the production of bile, which helps in the proper digestion of food.
4. Water And Good Juices
You should drink about 2 liters of water every day. You can include fresh juices in your daily routine.
Start taking a glass of lemon juice and warm water early in the morning.
You can intake pineapple and papaya juice daily. This will recover the health of the pancreas.
5. Eat Fruit And Vegetables And Spices
Consume natural foods in your diet that are rich in vitamin A, the vitamin B complex, vitamin C, vitamin E, and carotenoids. These protect and heal the pancreas.
Red fruits and berries, papaya, oranges should be an essential part of the diet.
Kiwi is the best fruit that can help drastically. These have a remarkable antioxidant property.
You should include green leafy vegetables in your diet; these are rich in vitamin B, Consume legumes, whole grains, seeds, nuts, herbs in your meals to recover the health the pancreas.
Consume foods that are rich in vitamin D.Turmeric and cumin are the spices that should be used in cooking. This will help in the healing of pancreatic disorder.
6. Have A Morning Sunbath
If you get enough sunshine on the skin, the body will make it's own vitamin D. This will help to block the proliferation of cancerous cells. Thus, it protects the pancreas from being damaged by these cells.
7. The Benefits Of A Hot Shower Or Bath
This might surprise you, but if you take a hot shower bath every day. It will stimulate your digestion and will definitely improve the health of your pancreas.
You can take a hot bath before going to bed in the night. This will relax your body, and you will have a sound sleep. This helps stimulate and reactivate the functioning of the pancreas.
8. Takes Care Of Your Emotions And Reduces Stress
Negative emotions and worries hamper the health. The stress level increases the levels of the cortisol hormone; this harms the body.
This will affect the digestion, in turn, can cause the inflammation of the intestine.
Thereafter, it would worsen the condition of the pancreas so keep away stress and negative thoughts. Try to relax and live happily.
11 Home Remedies To Cleanse The Pancreas
Some home remedies to cleanse the pancreas are
1. You can take a fresh juice of an apple, a beetroot, and one lemon. Now add 2 tablespoons of olive oil or rapeseed oil in it. Drink the juice daily; this would help you.
2. You can take a juice of half lemon, add 1 teaspoon of olive oil or rapeseed oil and add 1/8 teaspoon of garlic powder to it. Drink this once a day.
3. Take about 250g of ground black seed, 1 tablespoon of pure honey and ½ teaspoon of black seed oil. Now mix them thoroughly in a half cup of hot water. Take this an empty stomach early in the morning.
4. Take half a teaspoon of turmeric daily.
Turmeric has antioxidant and anti-inflammatory properties. It can improve the solubility of bile. It can dissolve as many as 80% of gallstones.
5. You can intake Oregon grape daily. It enhances blood flow to the liver and increases bile production.
6. You can also take Oregon grape with dandelion and milk thistle and consume it in tea. This can help you.
7. Oregon grape, dandelion, milk thistle can be blended with herbs such as chamomile, marshmallow, and slippery elm. This mixture will also help decrease gallbladder inflammation.
8. Take 1/2 teaspoon of cinnamon and 1/4 teaspoon of nutmeg and boil it with a glass of goat's milk. You can also add honey to it. Drink this in the night time every day.
9. You can trim the sharp edges off young milk thistle leaves and mix them with dandelion greens. Now, you can intake them raw or even steam them. Also, these herbs can be used in the tea.
10. Consume a full bowl of fresh yogurt; it is a protein pack that soothes your stomach.
11. Intake a glass of warm goat's milk daily before going to bed, this will help your digestion and cleanse your pancreas.
Diet Plan To Cleanse Pancreas
There is a diet plan, and if you follow the plan that will help you cleanse your pancreas.
a. For Breakfast
Take 2 eggs or bacon or baked beans or mushrooms. Remember not to take a toast with this
Or
Take 2 Boiled eggs or omelet
Or
Take Half avocado with nuts & Maya
b. For Lunch
Soup made with milk, but no starch
You can take raw cabbage
Take a chicken stock or a salad with ham, prawns or cheese
c. For Dinner
Fish steak with vegetables
Or
Take steamed vegetables
Or
Take Dal with Yogurt. If you still feel hungry you can take stewed chickpeas and spinach prepared in coconut curry sauce.
Or
Take mushroom casserole with walnuts and red cabbage
Or
Take mushroom with stewed tomatoes
You have to eat plenty of vegetables and fruits.
You can eat them raw or steamed.
Drink about 2 liters of water a day.
Enjoy the diet, you won't feel hungry.
Have this diet for 14 days; this will clean your pancreas. But then slowly and gradually start your full diet, maybe just in your breakfast and keep your body healthy.
What Should Not Be Consumed?
It is most important to avoid the following food items when you are facing pancreatic disorder
 Limit your meat consumption
 Eliminate tobacco and alcohol
 Do not take tea/coffee
 Jams, cakes, sweets, already made meals should be avoided.
 Say NO bread, pizza, pasta, pies, cakes, biscuits, and puddings.
 Grains like wheat, rice, rye, barley, oats, and maize should not be consumed.
 Root vegetables like potatoes, parsnips, carrots should be averted.
Functions of Pancreas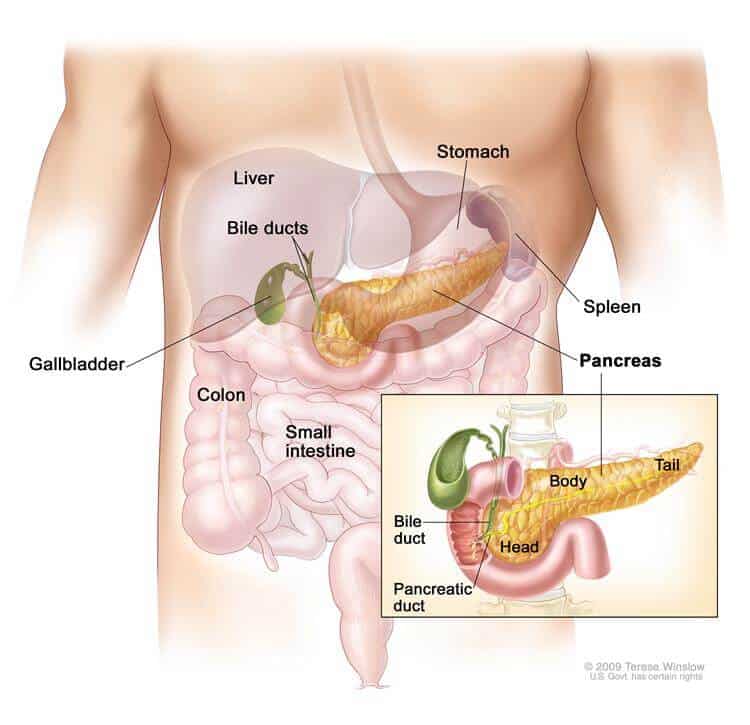 The Pancreas has two important functions
1. Exocrine Function
The exocrine role of the pancreas produces digestive juice and enzymes that help to digest the proteins and fats.It also produces sodium bicarbonate that neutralizes the stomach acids.
The pancreas has exocrine glands that produce enzymes which are essential for digestion.
These enzymes are trypsin and chymotrypsin, these digests proteins available in the food; amylase helps in the digestion of carbohydrates, and lipase enzyme breaks down the fats.
The pancreatic juices and bile that are released into the duodenum, which is the upper part of the small intestine, helps the body to digest fats, carbohydrates, and proteins.
2. Endocrine Function
The pancreas has an endocrine component that contains islet cells. These cells release hormones directly into the bloodstream.
The two primary pancreatic hormones are insulin, which lowers the blood sugar, and glucagon, which raises the blood sugar.
Maintaining proper blood sugar levels is crucial to the functioning of the body.
Causes Of Pancreatic Disorder
There are different causes of the pancreatic disorder. They are
 Excessive alcohol intake
 Gallstones blocking the bile tubes
 Infection
 Tumors
 Mumps
 Excessive medication and drugs
 Excessive eating of sugars such as sweets, biscuits, cookies, cakes, pasta, and bread
Genetic abnormalities
Symptoms Of Pancreas Problems
The symptoms of the pancreatic disorder are
 Spots (on Pancreas)
 Pain in the upper abdomen
 Jaundice- Yellowing of the skin and eyes
 Bloating
 Back pain
 Loss of appetite
 Vomiting
 Nausea
 Diarrhea
Acute pancreatitis can lead to Dehydration, Low blood pressure, Shock, Organ Failure and Death. Chronic pancreatitis is a worse inflammation that does not heal, and it results in permanent pancreatic damage.
Final Talk
To ensure healthy pancreas, adopt good food habits.
Change your diet plan; it will ensure proper functioning of the pancreas. Include vegetables like cabbage, kale, sprouts, broccoli, spinach, peas, beans, asparagus, onions, garlic, peppers, tomatoes.
Add nuts and seeds daily that consists of coconut, chestnuts, pine nuts. Start consuming yogurt and fresh juices.
You can also have beans and pulses in limited quantities. Getting a proper massage can also help the body to get rid of toxins.
It is important to follow the proper diet, and it is important to visit a doctor if you face some problems further.
Also Read:
Khichdi: An Ayurvedic Recipe For Body Cleanse
14 Ways To Ayurvedic Colon Cleanse At Home
How To Do A Kidney Cleanse At Home?