When you open your third eye or activate your pineal gland, it raises the level of insight and intuition in you.
Your level of consciousness increases. You can see the unseen.
You must have heard about "Third Eye" in Hindu mythologies (also known as Anja, Brow or chakra). The great Lord Shiva used to open his third eye when he was angry and burnt things into ash.
So don't get confused when asked about your eyes and their count. "Two" as a reply would be wrong in the sense that your "third eye" is the most powerful part of your body that possesses actual reality.
It's not a perception but sheer truth. In modern times, it signifies enlightenment, pre-recognition, and freedom from out-world experiences.
What Is Third Eye?
Your third eye is always available but invisible, unlike our other eyes.
It gives us insight, knowledge, and wisdom about what happened in the past, what is currently ongoing in the present and what is going to occur in the future.
It acts as an intuition i.e. it sees the unknown, unseen and feels unfelt. Have you ever been suddenly stopped by your mother from taking your bike out? This is her intuition that is nothing but her third eye energy. This power comes from her higher dimension of love and devotion towards you. This factor is called the "sixth sense."
You may sometimes find yourself watched by someone or may feel the presence of someone behind your back. This is nothing but the truth, which deals with the presence of spirits around you.
I won't go that far inside as some people might get scared, but one thing for sure is that your "third eye" makes their presence felt.
The things you want to know are already based on you. You just need a kick to take it out. Meditation can be that source of punch, providing you a particular path to harness that energy. You don't have to visit your Psychic or depend on your zodiac sign. Just try to access your intuition through deep meditation.
The man is always held together by his daily virtues of emotions and stress. Try to control them through your consciousness that will help you to become self-confident and self-controlled about your awareness skills. This will develop your 'sense' and 'sight'. Once you become aware of your intelligence, you'll try to expand them.
Advanced consciousness, makes the world a small place. Meditation not only helps you in becoming conscious but also develops new passions inside you. You can easily deal with all ongoing earthly tensions, and your anxieties will reduce gradually. This will make you a "man on the mission".
Another third eye beauty is that it suppresses your negative thoughts and thinking. It's in human nature to be worried and anxious about the tasks to complete. This results in negative thoughts. But once it goes, a clean conscious energy takes its place. This can be achieved with regular meditation.
The third eye helps you to get rid of bad imaginations and vague dreams. People always tend to dream of things that they are presently dealing with; a lower vibration can make these dreams bad and inconclusive.
Anything about your lifestyle, relationship, job, and goals can give you nightmares if left unanswered. But they can be avoided with 'third eye' i.e. with a clear vision through meditation.
How To Open Your Third Eye?
Your third eye is symbolized by the color 'indigo.' It is present between the brows and associated with time and light.
Eat dark bluish fruits, liquids, and spices; wear purple clothing to get the feel of your third eye.Start meditating and try to make yourself calm and composed.
I will explain you a simple step to open your "third eye."
Sit in a calm room where no noise effect can reach.
Close your eyes and slowly try to feel your inhalation and exhalation to calm your nerves.
While inhaling, bring your focus to a particular energy form.
Now focus this energy on the third eye chakra.
Start imagining a purple ball of energy which grows bigger and bigger with each breathes, at the location of your third eye.
Release all your negative thoughts, anxieties, fear and stress while exhaling.
Continue till you feel yourself light and free from all worldly attractions, resulting in warmth in-between the brows.
Once you feel this warmth, your third eye opens.
Another simple way can be while taking a head bath or shower in water, which is neither too hot nor cold. Feel the water falling on your head. Imagine the water molecules absorbing all the negative thoughts from your body.
Try this continuously. After a few days, you'll feel relaxed, and this will help in building up new energies inside you.
Benefits Of Awakening Third Eye
Your intuition increases (sense of future)
It makes you more aware and conscious
Increased Astral travel
Telepathic motions
It increases self-confidence and self-trust
It improves your spiritual qualities
It helps in understanding the universe
It helps in finding your answers from the surroundings
It improves your interpreting power
It reduces anxiety, pain, and fear
It takes you beyond analysis, reasoning, and rationalization.
It helps you in taking better decisions
It acts as a guide in your path of life
It increases your skills and abilities.
It helps you communicate with higher and lower dimension
Mythical Pineal Gland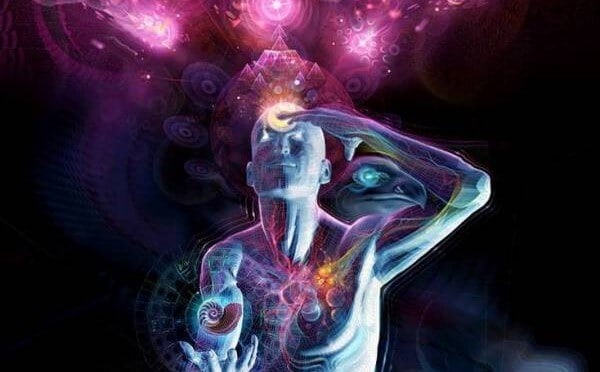 The third eye is associated with the "pineal gland" has always been a myth to solve. It is a small 'endocrine gland' that produces a hormone called ' serotonin derivative melatonin,' which affects sleeping and wakeup patterns and other sophisticated functions.
It is of the shape of a tiny pinecone and is located near the brain's center. This gland is nothing but the "third eye" itself, which controls the rhythmic functions of the body.
It works alongside the hypothalamus gland that controls thirst, hunger, body pleasures, and aging process.
This gland was a myth as ancient people considered it to be a connection between physical and spiritual worlds.
It's very important that your third eye awakens from its sleep. But is it so easy? The answer is NO!
Is there any obstacle? Yes! Then what? It's nothing but the calcification of this pineal gland. This is caused by the intake of daily toxins by our bodies such as fluorides (toothpaste), hormones, additives, sugars and artificial sweeteners.
Cellular usage also adds to this because of the harmful radiation coming from it. This makes the gland look like a pure calcium lump and leads it to a 'dormant' state.
What will happen by this? Your "third eye" will close, which makes a person:
Confused before taking any decision.
Pessimistic.
Jealous of others
Uncertain in performing his chores.
Anxious and stressful
Steps To Care About The Pineal Gland
1. Say no to fluorides: The following things need to be avoided for this purpose:
Tap water for cooking
Fluoride toothpaste
Artificial soda and drinks
Inorganic fruits and vegetables
Taking direct showers without a filter
2. Try to use the following stimulants to detoxify the pineal gland:
Iodine
Ginseng
Borax
D3
Chlorophyll from leaves
Blue-green algae
3. Add the following food habits to your diet:
Garlic
Citric acid
Bananas
Honey
Coconut oil
Seaweed
Noni juice
Berries
4. Taking raw apple vinegar with pure water, eight teaspoons ACV and two teaspoons pure honey can be useful.
5. Use essential oils such as:
These can be directly inhaled or taken in with the help of a diffuser. They can also be added to the bathtubs.
Lavender
Sandalwood
Turmeric
Davina
Parsley
Pine
Pink Lotus
Mugwort
6. Take sun gaze: Try to gaze at the sun for 15-20 minutes during sunrise and just before sunset. This helps inthe development and proper functioning of the pineal gland
7.Meditation and Chanting: Do early morning meditation and recite 'OM" chant to get instant benefits. This helps in stimulating the pineal gland that makes you look young, fresh and keeps your heart healthy.
8. Start collecting crystals such as:
Quartz
Amethyst
Moonstone
Purple sapphire
Rose Aura
Sodalite
Purple Tourmaline
But color is the most important factor to be taken care of while selecting a crystal. It should be of purple, violet or indigo color for faster stimulation of pineal gland.
The following process will help in the correct usage of crystal:
Take any crystal and place it directly at the position of your third eye.
Look directly at the sun.
Practice this for 10-15 minutes every day.
This helps in penetration of sun rays directly into the pineal gland that stimulates its proper functioning.
9.Magnet Massage:
Take a round size magnet.
It should be of the same size as the space between your brows.
Stick it with an adhesive.
Leave it still for few hours together.
Magnet tends to make the touched body part alkaline. Coming in contact with sun rays further, activates this part. It helps in decalcification and stimulation of pineal gland.
Thus you can see how the third eye is useful in developing spiritualism inside you. People tend to show you many videos, but these are only for motivational cause.
There is no such video, which can open your 'third eye'. It is time dependent. This time, factor varies from person to person. Thus, I would suggest you stay healthy and focused.
There is no such video, which can open your 'third eye'. It is time dependent. This time, factor varies from person to person. Thus, I would suggest you stay healthy and focused.
If you want to ask me for a video, I would suggest you to watch TOM CRUISE'S  " EDGE OF TOMORROW."
It's a Hollywood movie based on the third eye. It will not only be entertaining but also boost your motivation for achieving the "THIRD EYE" energy.