There are dozens of natural alternatives are there for brown sugar. Not only those are healthy but also less in calories. If you are calorie conscious and looking for healthy alternatives then this is a must-read article for you.
Did you know that a cup of sugar, i.e. 200 grams, contains 774 calories?. So,  being conscious about the health, you might have thought of the sugar substitutes.
The following article will guide you with the dozen of natural sugar substitutes. Try these out.
Natural Healthy Substitutes For Brown Sugar
1. Honey
Bees are the producers of honey. They gather nectar from ample of flowers and store it in the hives of their honeycombs. After evaporation, nectar turns into thick syrup on which the honeybee colony feeds. Honey is a renowned natural sweetener and has been used as such for centuries.
Vinegar and Honey together serve as a tonic for your body.
 Pros:
There are many health benefits of raw honey. It provides us with zinc, iron, vitamin B6, potassium, calcium, niacin, and riboflavin.
Honey also helps in the growth of healthy bacteria in the digestive system. Manuka honey is renowned for its ability to help heal infections and antibacterial properties.
Unpasteurized dark honey has high traces of antioxidants and nutrients. Variants such as buckwheat have higher traces of nutrients and antioxidants.
 Cons:
Honey is expensive than refined white sugar. You can't use honey in recipes that need creaming.
Sugar granules have sharp edges that create air pockets while slicing through the butter. When heated, these pockets expand resulting in a spongy, lofted pastry.
In the case of honey those air pockets are not created, hence you get a dense baked good.
You get a softer product by using honey, but it dries out faster than baked product made with sugar.
Tips:
Use  honey in recipes that should have a soft, cake-like texture(like coffee cakes). Decrease the liquid in your recipe by one-fifth. Lower the baking temp by 25 degrees to prevent browning.
Can Be Used In:
Soft, moist cakes and quick bread, puddings, ice creams and gelato
 2. Maple Syrup
Maple is sweeter compared to sugar, which means the quantity required is less.You can use this substitute in recipes that don't need a creaming step. You can use a combination of substitutes like maple and barley malt syrup or maple and molasses. Maple syrup is also
You can use a combination of substitutes like maple and barley malt syrup or maple and molasses. Maple syrup is also available in a granular form that has the texture like muscovado sugar.
These are collected from maple trees. It is boiled to make the water evaporate. This leaves a sticky concentrated syrup that is then filtered and bottled. To make 1 gallon of maple syrup, around 35 to 50 gallons of sap is required.
 Pros:
Maple syrup has a natural sweetness and consistency. Although it is less sweet compared to honey, it retains its taste even at high temperatures. This makes it a great substitute for using in cooking.
The pure form of this syrup contains over 54 oxidants. Darker variants are known to contain higher traces of antioxidants. It can be used in the same ratio as sugar.
One cup of maple syrup offers 180 mg of calcium and 322 mg of omega-6 fatty acids. It also contains minerals like iron, zinc and magnesium needed for a strong immune system.
 Cons:
It is expensive. Like honey; it cannot be used in recipes involving the creaming process.
 Tips:
Never use maple flavored, use real maple syrup. For each cup of maple syrup, reduce 3 tablespoons of liquid from the recipe. Baked items will have a brownish tint and will brown comparatively faster.
So, keep this in mind and set the baking time appropriately or lower the oven temperature by 25°.
 Can Be Used In:
Candies, puddings, Icecreams and caramels
 3. Raw Cane Sugar
Freshly cut sugar cane from the fields is crushed in the crushing machine to extract the juice. The extracted cane juice is heated to a certain temperature to evaporate the water. This is then spun in a centrifuge that gives it a golden colored crystal.
 Pros:
Raw cane sugar has low cholesterol and sodium content. Although it contains no saturated fats, it contains a notable number of calories. In order to avoid consuming a large number of calories, eat it less. Sugarcane juice is a low-glycemic food having a glycemic index of 43.
 Cons:
This sugar is less refined than white sugar yet it's no good from a nutritional point of view. Even though it contains molasses, but the amount is too small to provide the health benefits.
 Tips:
Since the size of crystals can be larger compared to white sugar, you need to dissolve it in liquid or beat it in with eggs to get a smooth texture.
 4. Barley Malt Syrup and Molasses
A thick, sticky brown sweetener produced from barley is less sweet compared to refined sugar but has a rich taste. A granulated form of it is also available, making it a decent substitute for brown sugar.
However, people who are gluten intolerant should avoid this sweetener due to the fact that it is extracted from barley.
 Pros:
Molasses and barley malt syrup have an intense and rich flavor. This makes them ideal for adding a satisfying note to pastries and baked items.
Molasses, when combined with baking soda, make light and spongy cakes due to its acidic nature. According to a study, this syrup provided relief to problems like obesity, menstruation, acne, and diabetes.
 Cons:
The intense flavor of molasses and barley malt syrup can troublesome people. Subtle flavors can get diffused and may not add to the recipe.
 Tips:
A combination of barley malt and molasses with another sweetener like maple will add more palatability to the baked item.
 Can Be Used In:
In savory foods like sauces and chutneys, gingerbread, cakes, biscuits, sweet baking of bread, cookies and as an additive in other sweeteners.
 5. Blackstrap Molasses
During the sugar production, Juice that is extracted from sugar cane is boiled down until the water evaporates. This leftover syrup after crystallisation is molasses. Usually, there are three cycles of boiling that sugar cane juice undergoes.
You get blackstrap molasses as the by-product in the third boiling cycle. This variant of molasses has the highest concentration of vitamins and minerals and contains least amount of sugar.
 Pros:
Blackstrap molasses contains the high amount of nutrients and it is rich in potassium, iron and calcium. A tablespoon of blackstrap will provide you with 20% of recommended daily intake of calcium and 40 % iron.
It also contains vitamin B and copper, that help in eliminating cancer-causing free radicals.
 Cons:
The glycemic index of this sugar is of 55 which is not a low number, so you should keep in mind about the excessive use of this sweetener. Active people can neutralise the sugar intake by burning more calories.
But, the digestive systems of some people have problems in absorbing sugars like fructose.
 Tips:
Use molasses for spiced cookies and bread due to its distinct and robust flavour. Add half teaspoon of baking soda to the recipe, which will help in neutralising the acidic nature of molasses.
 6. Agave Nectar
Agave is produced from the same spiky plant from which tequila is produced. After 7 to 10 years, the leaves of a blue agave plant are removed. This reveals the core of the plant which is called pina. From pina, sap is extracted and filtered, and then it is heated at a low temperature to break down the carbohydrates into sugars.
 Pros:
It is sweeter than normal sugar, so the amount required is small. It has a lower glycemic index, thus offering sweetness without spikes in your blood sugar levels.
 Cons:
Similar to white sugar, agave syrup is also highly processed. Also, the fructose content in this syrup is high which can promote obesity and have a negative effect on the liver.
 Tips:
Reduce the quantity of liquid in your recipe by a quarter cup. To prevent oil from forming a layer on top,mix agave with the fats or liquid in your recipe. Lower the temperature of the oven by 25° due to the fact that agave browns quickly.
7. Brown Rice Syrup
Brown rice syrup has a taste similar to that of honey. It is produced from whole grain rice treated with enzymes.
If you are considering this substitute, you should keep in mind that this syrup has a high level of a gyclemic index of 98, which is only 64 in refined sugar.
It also has a high-calorie count. This syrup is not recommended for diabetics as it enters the blood stream very fast.
 Pros:
It has a mild and less-intense sweetness compared to honey. If you want a replacement for corn syrup, this is a 1:1 substitute.
 Cons:
It is quite expensive and it can't be used in recipes that have a creaming step.
Can Be Used In:
Fudge confections like brownies and candies.
 Tips
If you want a less sweet pastry, you can try this alternative in place of maple syrup or honey.
8. Stevia
Stevia is a powdery sweetener which is extracted from a plant and has been used since long in South America. The plant's sweetness is due to a component called glycoside.
The leaves are collected in a vessel containing hot water and this water is passed through a resin material that traps the glycosides. By washing the resin in alcohol, the glycosides are released which are finally crystallised.
Stevia is an important ingredient for the Ayurvedic Tea that helps you to live longer and healthy.
 Pros:
Stevia is 30 times sweeter than sugar, hence the amount required is less. According to a few types of research, stevia was found to help in lowering blood sugar levels and blood pressure.
It is calorie-free, thus very helpful for people working on weight loss.
 Tips:
For moistness, add some yoghurt or fruit puree and an additional egg white. Reduce pan size and lower the oven temperature by 25°.
 9. Date Sugar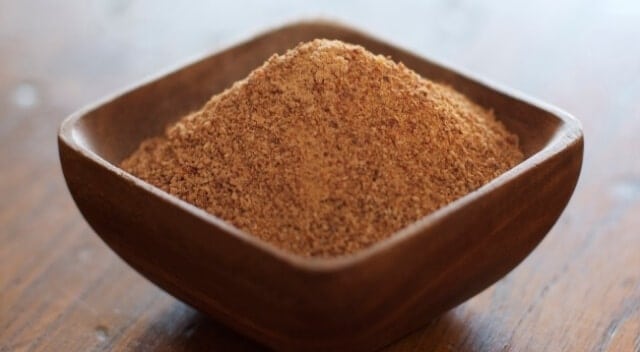 This sugar is produced from dehydrated, ground dates by minimal processing. It is slightly sweeter than refined white sugar and thus amount required is less. It is stuffed with vitamins,
Date sugar is stuffed with vitamins, fibre and energy-boosting qualities. It is slightly thicker and consistent making it great for baking purposes.
A disadvantage of this sugar is that it can't be used as sugar because it doesn't melt; so don't try to put it in your coffee or tea.
 Pros:
This substitute is completely natural and you know exactly from where this is coming. It is high in fibre that helps in slowing down the absorption of fructose. It contains important nutrients like potassium.
 Cons:
Fructose content is high in ratio to their weight. It is easy to eat, thus you need to take care not to consume excessive fructose. Also, it may drive sugar cravings.
10. Sucanat
Juice of whole sugar cane is extracted and is heated in a large tub to make it a rich, dark syrup. It's then crystallised, the result of which is porous, dark-brown granules. Unlike refined sugar, Sucanat contains calcium, vitamin B6, vitamin A, chromium, potassium, and iron.
Pros:
Sucanat contains many nutritional substances such as potassium, calcium, magnesium and vitamin A.
Cons:
While the molasses provides the health benefits, the sugar part has disadvantages. A cup of Sucanat has around 570 calories, which may be less than white sugar, but still, it's not low. Be careful not to overuse this sugar.
Tips:
This substitute is best for replacing brown sugar since it has a brownish tint and tastes like molasses.
11. Turbinado Sugar
Turbinado sugar is also known as "raw sugar". It is produced by extracting juice from pure cane sugar. The sugar is spun in a turbine or cylinder, hence the name 'turbinado'. This sugar has a brownish tint and looks like brown sugar, but somewhat pale in colour and has a subtle molasses flavour.
 Pros:
It has a crispy texture making it a great substitute for a dusting or finishing sugar. It can also be used in recipes that require creaming.
Turbinado sugar imparts a crispier and cookie-like texture and a flavour similar to brown sugar to the baked goods. Melted form of this sugar can be used to make candies.
Cons:
You won't get that perfectly smooth texture of your baked goods which you get by using refined sugar.
Tips:
To allow the ingredients to blend completely, add a few minutes to the beating process of turbinado and butter. A 1:1 ratio for turbinado to refined sugar is ideal for your recipe but keep a note on the fact that turbinado, being coarser, takes up more volume.
 Can Be Used In:
Short bread, cookies, cakes, decoration and finishing.
12. Coconut Palm Sugar
The sap from the flower buds of the coconut palm tree is collected. It is heat treated to evaporate the liquid to get crystallised granules of sugar. It is available in solid as well as liquid form, but granules are preferred over liquid due to the similarity with normal white sugar.
This sugar contains several nutrients which include zinc, iron,potassium and calcium. It has a low glycemic index but has high fructose and calorie content.
 Pros:
Coconut sugar has a low glycemic index of 35 which is at least lower than 58 of refined white sugar. It is a versatile substitute because it doesn't taste like coconut. It is great for candies.
 Cons:
Coconut sugar has a softer texture compared to refined sugar. Hence, it doesn't cut through butter even though it appears similar to white sugar. Thus, you get a denser pastry. If you want a baked item with a dry texture, this sugar can make up for it.
 Tips:
If you don't want a dry texture, add some moist ingredients like apple sauce or mashed banana to the recipe. Be aware, of the fact that the burning point of this sugar is 10° lower than that of white sugar and it smells really bad when it burns.
 Can Be Used In:
Cookies, shortbreads, candies, frostings, savoury sauces and curry.
13. Muscovado Sugar
Muscovado sugar is a  dark, partially refined brown sugar having sticky crystals. It can make up for brown sugar in any recipe like drinks, desserts, or even hot breakfast cereal. Varieties of this sugar include a range from very dark to medium dark. Barbados sugar is very similar to this sugar but it has a slightly fine texture.
 Pros:
This sugar is the best substitute for brown sugar. It's intensity is less compared to molasses, but it has that same smoky and deep flavour. It helps in browning the baked goods.
 Cons:
This sugar is quite expensive compared to regular brown sugar. Bakers may find a few small stubs of unprocessed sugar due to the fact that this sugar is less refined.
 Tips:
Instead of using brown sugar, use this sugar in your recipe. Keep one thing in mind that baked item will brown very fast and may appear completely baked but actually, hasn't yet baked completely.
 Can Be Used In:
Cookies, frostings, brownies and fudge.
 14. Lo Han Kuo (Monkfruit)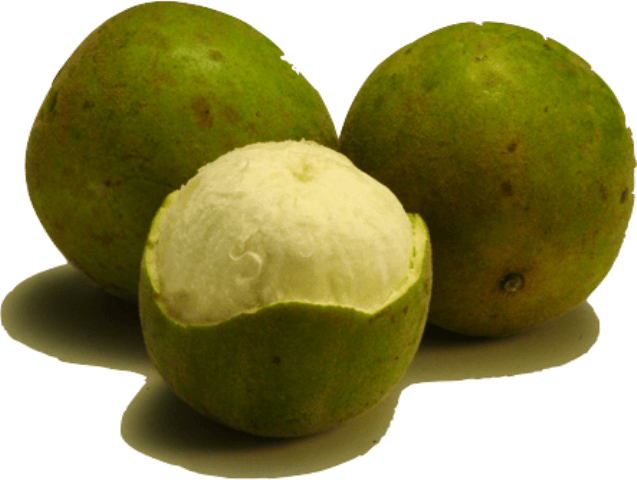 Lo Han Kuo, also known as monk fruit, can be a great substitute for sugar. The sweetener is extracted by crushing the fruit in the processors and filling it with hot water. Then, it is heat-treated to remove the water, and as a result, you get a brownish powder which is very sweet.
 Pros:
The sweetener has caused a stir in recent years because of its zero calorie content. Moreover, it has a low glycemic index ensuring no spikes in blood sugar levels. This substitute is a great antioxidant and helps in managing diabetes by inhibiting blood sugar levels.
15. Fruit
Fruit is a very simple substitute for refined white sugar. It is filled with fibre, vitamins and mineral, and is recommended for consuming 5 times a day anyway.
Fruit sugar looks similar to table sugar but is very sweet. Although the calorie content of normal sugar and fruit sugar is same, the fruit sugar has an advantage of a low glycemic index. Thus, it is safe from blood sugar level spikes.
 Pros:
Fruit is a natural substitute for sugar and it adds a new flavour to the recipe. You have the option to add it either as a whole (like mashed banana or pineapple chunks) or as juice (like grape, cranberry or apple).
 Cons:
Fruit juice will make your batter extra wet thereby altering the texture. In some recipes, you just cannot swap 1 cup of solid sugar with 1 cup of juice.
Tips:
Use fruit sugar in a way that it compliments other ingredients and adds a distinctive flavour to your item. For instance, in a carrot cake, crushed pineapple or apple juice can add a great flavour to the dish.
 Can Be Used In:
Cakes and quick bread
16. Chocolate
Bittersweet chocolate can add great flavour to desserts. Adding bitter sweet chocolate to simple desserts like puddings and custards fare best. This is because of the fact that they are not dependent on sweeteners for leavening and other reactions. It also gives a distinct flavour to the recipe. Eating dark chocolates help you to loose weight.
We know that sugar isn't a healthy food item, and risks by consumption of sugar go far beyond a cavity or a sugar crash. Sometimes artificial sweeteners can add more calories to a meal.
But the advantages of it over refined sugar might neutralise the calorie content. Try these alternatives wherever possible. Bring these substitutes in practice to abolish the use of brown sugar. Stay healthy, stay fit.