Read this before throwing away rice water next time.
In this article, you're going to discover the health and beauty benefits of rice water that are untold before.
Most of us don't know the benefits of rice water. You might be throwing it out without realizing its goodness.
Rice, one of the most important grains, is the staple food for almost half of the world's population, especially in Asia.
It supplies as much as half of the daily calories because of the presence of a high amount of starch in it. It is this starch which gives white color to the rice water. Rice is rich in proteins, dietary fiber, and vitamins too.
What Is  Rice Water?
It is water left behind when you wash the rice before cooking.It can also be obtained by boiling rice with water.
When you cook the rice in water, due to high-temperature rice releases some of its starch in that water, this water with starch suspension is called the rice water.
But what you may not know is that this rice water has many amazing health benefits and is used for centuries to attain crystal clear skin and shiny hair by women.
Healthier skin, more energy, and shiny hair are just some of the benefits that you will gain from this old Indian/Chinese recipe that is becoming increasingly popular in modern western civilization.
You can get a beautiful skin and healthy body by only using two easily available ingredients that are water and rice.
Rice water is also recommended by Ayurveda doctors because the results are proven ones.
Now let's see health benefits of rice water
Health Benefits Of Rice Water For Skin
A.Rice Water For Skin
Rice is rich in beauty minerals and vitamins and what's more astonishing is that all you need to do is simply boil the rice. Asian women have used rice water to beautify their face, hair, and body.
Traditionally, female rice farmers in Japan, China, and other Southeast Asian countries used to bathe and wash in the water used for cleaning rice.
1.For Crystal Clear Face
Wash your face, then soak a cotton pad in the rice water and apply it all over your face, as you would do with a toner.
Rice is rich in a complex of B vitamins called 'inositol' that helps in promoting the cell growth, slowing down the aging process and stimulating blood flow – the perfect recipe to tighten pores and making the face to glow.
Besides this, rice water also has antioxidant, moisturizing and UV rays absorbing properties. Rice water has the ability to bind to naturally occurring copper in the skin; therefore it prevents the production of melanin (hyperpigmentation) and age spots.
2.For Softer Skin
Rice water acts as an excellent softening agent for skin. All you need to do is just wash your face with rice water.
3.As A Skin Toner
Rice water acts an excellent skin toner to even out your skin tone. It keeps the skin smooth and glowing. What you need to do is just damp the cotton ball with rice water and apply it all over your face.
4.As An Acne Healer
The outbursts of acne can be easily treated with rice water. Apply it on the acne by using a cotton ball. The redness of the acne will be slowly reduced.
5.In Dealing With Eczema
The starch present in rice water helps in dealing with eczema. Just take cool rice water and apply on the affected area. Regular application for few days will treat eczema.
6.As Skin Lightening Agent
Yes, you read it right! Rice water is far more beneficial than those artificial products which claim to lighten up your skin. Who doesn't long for a fair and brighter skin? We do not fail to try all cosmetic products to get that fair skin.
But sadly, these chemicals don't last for long and make our skin only worse in the longer run. Use Rice water as a regular face wash to get that glow on your face. It slowly lightens the skin tone. Slightly wet the cotton ball in rice water and apply on your face and let it air dry.
7.As A Natural Cooler For Skin Inflammations & Burnt Skin
Rice water is also used for cooling inflammations and burnt skin. It will help your skin to recover fast and prevent further damage. Apply cold rice water to the damaged area.
8.For Rashes & Painful Skin Conditions
The soothing nature of rice water makes it an effective remedy for rashes and other irritating skin conditions. In a dermatological examination at Brussels University, patients with atopic dermatitis saw a 20% improvement after taking 15-minute baths filled with rice water twice a day.
Benefits Of Rice Water For Hair
You must have heard of the Yao ethnic women from the village of Huangluo in China who, with their average hair length of about 6 feet made it to the Guinness Book of World Records as the "world's longest hair in the village".
Besides this, these women do not have grey hair till the late 80's. The untold secret behind their long and black hair is that they believe that the fermented rice water (which they use to cleanse their hair) is what helps to keep their hair clean, dark and long.
Rice water makes these women to de-tangle and manages their long hair easily, which they used to wrap around their heads in a high bun that is often called with names such as 'gazing god's bun' or the 'cloud bun'.
9. For Protecting Hair From Damage
A recent research has shown that rice water exhibit hair care effects such as decreasing surface friction and improving hair elasticity. Rice water has inositol which is a carbohydrate, which not only repairs damaged hair but protects it from further damage as well.
Specialized imaging technique proves that inositol remains inside the hair even after washing the hair, contributing in continuing hair protection and beautifying effects.
10. For Strengthening Hair Root & For Smoothening Of Hair
The rice water is rich in amino acids. These amino acids strengthen the hair roots, add volume and shine and make hair silky smooth.
11. As A Hair Mask For Silky & Shiny Hair
Use rice water as a hair mask to get that long, silky and shiny hair. Pour some rice water on your hair and scalp; let it stay there for 20 minutes then wash it with normal water, follow with your natural shampooing and conditioning routine afterward.
Rice Water For Health
Drinking rice water is also extremely beneficial for the overall health of our body. It contains 8 essential amino acids which form the building blocks for tissue and helps in muscle regeneration. It has also been known that rice water also provides energy due to the high concentration of carbohydrates.
Following are the health benefits of drinking rice water:
Provides energy
Successfully prevents from gastroenteritis(food poisoning) by dehydrating the body
Due to its richness in fiber, it can also help in reducing the risk of cancer
Regulates body temperature
Prevents and cures constipation
Health Benefits Of Rice Water For Infants
12. In Treatment Of Diarrhea
Rice water is an effective cure for diarrhea and other gastrointestinal troubles. A research paper by British researchers concludes that oral ingestion of rice water could efficiently decrease stool output frequency in babies.
A research paper produced in July 1981 in the "Lancet" reported that rice water was effective than an electrolyte solution in reducing the number of bowel movements in babies with acute diarrhea.
It helps in treating mild to moderate gastroenteritis. Just take half a cup of brown rice and boil it in 3 cups of water and boil at medium heat for 30 minutes. Give your baby one tablespoon of rice water every four hours or until the symptoms abate.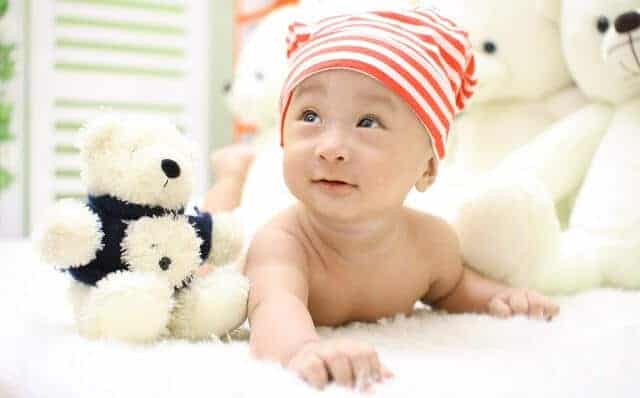 13. In Treating Eczema
Young babies are often victims of eczema which is a common form of dermatitis. This condition is extremely uncomfortable. To treat this take 2 cups of rice water and mix it in the bathing water of baby. The oils present in rice will hydrate and moisturize your little one's skin, calming the dry patches of eczema.
14. In Treating Fever
Rice water can also help bring your baby's temperature down to normal. All you need to do is simply feed your infant the rice water in small portions.
15. For Providing Energy
Regular consumption of rice water helps energize your baby instantly. Rice water contains very high levels of carbohydrates that will help in fulfilling your baby's energy requirement after a long day of play. Also, rice water can be easily digestible.
Note-If your baby hasn't had rice water you should, therefore consult your pediatrician before you include it in your baby's diet. If your baby is allergic to barley and oats, then there is a chance that he may be allergic to rice too. So below are some symptoms of rice water allergies in babies:
Stomach ache
Rashes
Vomiting
Shortness of breath
Difficulty in breathing
Note: The rice water should be diluted before you feed it to your baby
Methods Of Preparing Rice Water
Making rice water is a simple task. You may say that the water with which you clean the rice is rice water, but that is not true. But you can also use this water, but you will not get the same effect as the original rice water (which is obtained from boiling the rice) gives.
To Make Rice Water, You Will Need
1/2 cup uncooked rice
2 cups water
Steps For Preparing Rice Water
Rinse the rice with water to remove any dirt or impurities.
Then, place 1/2 cup of uncooked rice in a bowl and cover with water. Let the rice absorb the water for about an hour or so. Churn it around lightly until the water turns cloudy. This will help the minerals and vitamins seep into the water.
Now strain out the rice water into a clean bowl. Rice water is ready for use now.
You can store this rice water in the refrigerator for 4 to 5 days but don't forget to shake it well before using it.
It can be prepared by cooking the rice in water. Extract excess water after the rice is cooked.
Now, before I tell you another method of preparing rice water, let me tell you what fermented rice water is.
Fermented Rice Water
Fermented rice water is rice water that is left to ferment. After fermenting the rice, water becomes slightly sour. The rice water is fermented because the effects of rice water can be further enhanced if it is allowed to ferment.
It then becomes rich in minerals, vitamin B, vitamin E, antioxidants, with some traces of pitera. Pitera is a substance produced during the fermentation process. 'Pitera' has grown in demand recently.
It is thought to be anti-aging elixir due to its ability to promote cell regeneration.It helps skin stay young and beautiful by shrinking pores, reducing fine lines, tightening and brightening the skin.
Washing or rinsing your hair with fermented rice water is certainly better than rinsing with non-fermented or plain rice water. Fermentation lowers the pH of the rice water.
Our hair pH is also slightly acidic. So, this slightly acidic pH along with the added nutrients through the fermentation process helps in restoring hair's pH balance.
It also stimulates blood flow to the scalp, nourishing hair follicles to aid healthy hair growth, and improve the total condition of hair.
Steps To Prepare Fermented Rice Water
Prepare plain rice water.
Then what you should leave it at room temperature for 24 hours or until it turns slightly sour which means that it has started to ferment. It can take 24 to 48 hours, depending on how warm it is. The warmer is the room temperature the faster is the fermentation process.
Your fermented rice water is ready.
Store it in the refrigerator and it will last for 4 to 5 days. Remember to shake well the refrigerated rice water container before using it.
To decrease the fermentation time of rice water, you can leave the rice sitting in the water and strain once it has fermented.
Drawbacks Of Rice Water
Rice water does not contain enough minerals or proteins to serve as a replacement for the minerals your baby loses during diarrhea. It also lacks sodium and potassium, which are the most important minerals.
A baby suffering from diarrhea, if loses, around 10% of his body weight then he may experience severe dehydration. Get baby to a doctor immediately.
Remember, rice water should not replace milk or formula milk as it does not contain enough nutrients. So what you can do is just mix rice water with formula powder if you do wish to combine both.
After knowing these health benefits, I am sure you are not going to throw it away.