What does it mean if you have a brown spot in your eye?What are the causes of brown spot on the sclera?
If you are looking for answers to the above questions then you are the right place.Learn causes and how can you get rid of brown spots on the sclera using home remedies in this article.
The human eye is made up of various parts which aren't visible to the naked eye. The white part which you may see in your eye is called the sclera. This part surrounds the clear part of the eye which is the cornea. Usually, the sclera is colored in bluish hues but it may differ depending upon the skin color of the person.
People also, at times, experience brown or dark spots on the sclera of their eyes. These brown spots scare people and they usually start running to their ophthalmologist. Even though they aren't very dangerous, but it is important to understand the reason behind these spots.  The following article deals with the major causes behind brown spots on the sclera and ways of how to get rid of them. So sit back, and enjoy the intellectual ride.
What Causes Brown Spots On The Sclera/Eye
Following are the various causes of this particular problem so that you are at least aware of the reason behind your troubles:
1. Benign Conjunctival Nevi
This tends to occur in the first 10 years of life. Further, it is considered to be very common. Most viewable eye discolorations turn out to be benign, but it is always a better idea to get it checked by a reputed doctor.
2. Primary Acquired Melanosis
It is also referred to as PAM. This particular cause only affects the person in the later days of his/her life. Further, it occurs to only white individuals. Pam is usually described as a unilateral flat area of conjunctival pigmentation. You may have PAM for years without any changes or you may even experience color changes. In certain instances, it may even lead to a minor malignancy. The transformation from an innocent pigmentation to a malignant spot is one of the major reasons for this.
3. Medications
There are certain medications that can darken the conjunctiva. Some of them include epinephrine containing eye drops. Further, industrial or photographic use of silver preparations may also lead to conjunctival discoloration. Also, endocrine diseases and hormonal changes may result in melanin production which leads to brown spots in the sclera.
4. Conjunctival Pigment
This is the major reason behind brown spots in the sclera. This is because it helps in the formation of lesions in the eye. This could happen due to chronic inflammation, chemical irritation, or even malignancy.
5. Excessive Iris Pigment
There are certain situations where there is a whole lot of pigment in the iris. This condition can also be referred to as pigment dispersion syndrome. PDS usually occurs when the pigment starts to rub off on the back of the iris. Then it starts to float around to other parts of the eye. The most unfortunate part about PDS is that these tiny bits of pigment can clog your eye's drainage system, leading to eye pressure problems. Further, this pressure so built can even damage the optic nerve and cause glaucoma.
6. Axenfeld Nerve Loops
These are loops of lengthy nerves within the sclera. They are gray or white in color, under the conjunctiva. They are usually considered to be perfectly normal; yet, there are cases where these loops can lead to malignancy.
7. Foreign Objects
A fleck of dust, a wood chip, a splinter of metal, or even an insect may affect the sclera. This happens when it gets in touch with the eyelid or the cornea. Usually, people working in factories producing wood or metal are prone to this. Also, those who are laborers, carpenters, and boilermakers by profession are most vulnerable to this. It is advised that when someone gets an object in the eye, they should avoid removing it on their own. This may do permanent damage to the eye. Instead, seeking medical help is a better option.
8. By Birth
Some people may also suffer from dark or brown spots on eyeball since birth or may develop with age. This is also called a freckle. In most cases, these particular spots are usually benign and harmless.
9. Bleeding
Bleeding or hemorrhage in sclera causes brownish spots there. In most cases, brown spots on eyeball are indicative of the presence of blood clots in the vascular structure.
10. Exposure To Sun:
Excessive exposure to the sun may also lead to discoloration or pigmentation leading to brown or dark spots in the sclera. 
Symptoms Of Brown Spots On The Sclera/Eye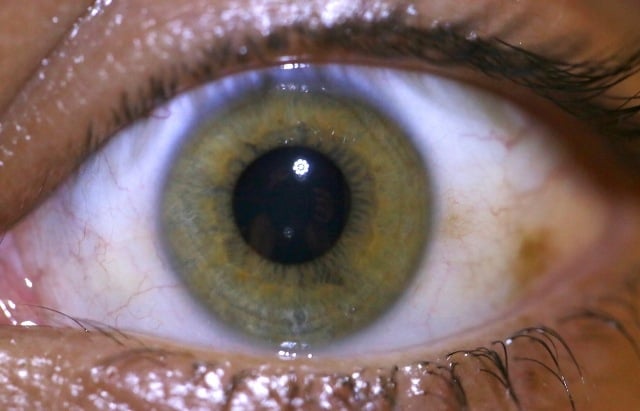 These were the major causes which lead to causing brown spots in the sclera. Yet, it is also important to know more about the symptoms of this particular problem. It is very unfortunate that, this eye problem does not show any particular symptom.
As these spots are more or less visible to the naked eye, you will get to know when these tend to appear. Further, this eye problem has general applicability. So, we cannot prevent these brown spots from forming in the sclera of our eyes as there is no sign or symptom of this problem.
Home Remedies To Get Rid Of Brown Spots On The Sclera/Eye
Further, it is eminent for you to know how to get rid of these ridiculous brown spots in the sclera of your eye. There are certain super cool and easy home remedies which are followed with precision will ease out your problem thoroughly:
1. Consume Freshly Crushed Garlic Flakes
2. Dandelion Root
Having dandelion root tea is one of the best ways to get rid of this problem. You may also consume a dandelion root capsule every day in the morning.
3. Consume Onion:
Onion acts as a natural blood thinner and may prevent clot formation. Further, it is mandated that onions benefit the lens of the eyes. You may have onion alongside your usual meals or even drink onion juice twice a day.
4. Vitamin E And C
Supplements of Vitamin E and C are loaded with antioxidants that help fight toxins. Further, nuts and citrus fruits can also be consumed for vitamin supply.
5. Reduce Exposure To Sun
Protecting the eyes from severe sun rays is the key to reduce the brown spots in the sclera. Start using UV protective sunglasses whenever you go out in the sun. This would help to protect your eyes from the harsh UV rays of the sun and prevent pigmentation in the eye.
6. Avoid Seafood
Since seafood contain traces of heavy metal start avoiding them. You may have them once a week but it would be wise to limit the intake of seafood. This would help in reducing the brown spots in the sclera of the eye.
7. Homeopathy
Homeopathic medicine has been used to remove brown spots in the sclera. Further, it has proven to be the most effective one when the cause behind the brown spot was to damage a blood vessel.
8. Medication
Finally, if you feel that all the above-mentioned home remedies aren't working out you should refer your reputed ophthalmologist. This is because he would surely guide you better in this manner. While many people do tend to benefit from these home remedies, it is important to see a doctor when you notice brown spots on the sclera.
Treatment Brown Spots On The Sclera/Eye
Home remedies are beneficial and people tend to follow them thoroughly. Yet, if you feel that the brown spots are aggravating or they are hindering your vision then you must opt for a treatment. Some of them are mentioned below:
1. Medicated Drops
The simplest form of treatment is medicated eye drops. If the situation has aggravated and a person is at risk of getting glaucoma, the medicated drops can lower eye pressure. These drops are designed to remove the amount of aqueous fluid which the eyes make. This is how they help to provide relief to the person.
2. Laser Therapy
There are two distinct types of laser therapy: trabeculoplasty or laser iridotomy. These can be used by the affected person.  The former is used to make drainage work better. Thus, it helps to reduce the excessive eye pressure. And the later is used with pigment dispersion syndrome (PDS). The laser allows the iris to become flattered and helps to decrease the amount of pigment floating around in the eye.
3. Other Surgeries
Ophthalmologists may implant special tiny drainage tubes in the eye.  These tubes are referred to as glaucoma drainage devices. In the case of malignant spots, the doctor may refer the patient to an oncologist for chemotherapy.
There have been instances wherein the sclera spots were removed through a procedure called conjuntivectomy. This allows the removal of the conjunctival layer but it can surely regenerate without the brown or pigmented area.
4. Benign Conjunctival Nevi Treatment
In this, a large lesion is removed, through a surgical procedure. These procedures are carried out to avert the transformation of the nevi into a malignant melanoma. At times patients ask for the procedures for aesthetic reasons also. Usually, manual surgical removal of a nevus does need hospitalization and pedantic monitoring of the eye.
5. Photoablation
This procedure is also called argon laser photoablation. In this, high-energy laser wavelengths are used to break tissue polymers into tiny fragments. This process may or may not be successful. Thus, it is considered a very unreliable treatment.
6. Foreign Object Removal
A doctor usually numbs the eye with anesthetic drops and then removes the object. In some situations, the object may be flushed out with saline. This depends on how deep the object has penetrated the eye. It also depends on how much inflammation the object has caused.
After the procedure, the eye may be covered with a patch to permit it to rest. Follow-up is a must so the ophthalmologist can make sure that the foreign object has been removed.
FAQs
1. Should You Worry About The Brown Spots In The Sclera Of The Eye?
Brown spots on eyes are usually benign. As they are the result of simple pigmentation, they do not cause any visionary problem. Further, many people want to get rid of them because of aesthetic reasons. Yet, some rare malignant cases have also been reported.
2. How Long Does Brown Spots On The Sclera Last?
Usually, it has been reported that brown spots in the eye remain for a considerable long period of time. But, there may be instances wherein they may disappear on using some home remedies or medical treatments.
3. How To Spot Them?
In most of the cases, identifying brown spots in the sclera of the eye is impossible for common people like us. You will need to visit a professional ophthalmologist, who will examine your eyes professionally. He will do this by an eye test named the 'fluorescein angiogram'. Only then can it be deciphered whether you are suffering from this problem or not.
Thus, it is imperative for you to determine the cause of the brown or dark spots in the sclera of the eye. Next, you start using home remedies or medical treatments which will help to reduce the same. It is also advised to refer a reputed ophthalmologist for this purpose immediately.