If you are reading this post I'm sure you'll agree with me when I say how painful and irritating a bump/pimple on the eyelids must be.Let's face it they look awful, but you don't have to worry as you read further I'll explain to you the causes, symptoms and how they can be treated from home.
What Is This Bump On The Eyelids?
The reddish swollen bump which looks like a pimple on the eyelids is of three important types Stye, Chalazion, and Xanthelasma. These bumps/pimples can occur both inside and outside the eyelids but the ones that develop on the inside are the most painful of all.
I'll discuss with you in detail all three types individually for you to get a clear idea.
The first type of bump on the eyelid that I want to tell you is the most common among the three, a STYE
What Is A Stye?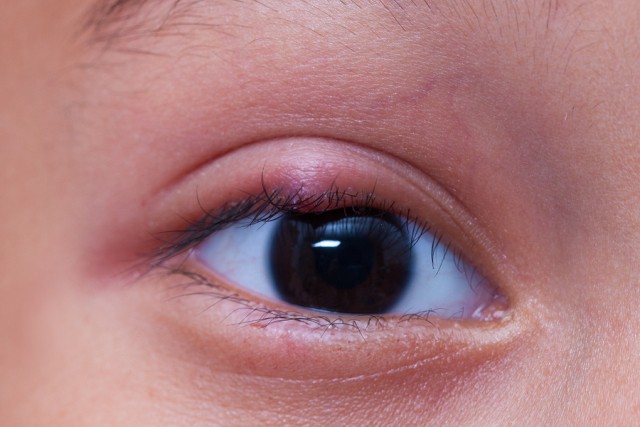 A Stye, which is medically termed as a Hordeolumdevelops due to secretion of dirt and dead skin cells near the oil glands in the eyelids making it susceptible to bacterial infection, in this case, the staphylococcus species causing inflammation in the region of contact.
What Can Cause A Stye?
Though bacterial infection is the major cause for a stye to develop there are a few other reasons which might aid in the development of stye. Some of them are,
Excessive oil secretion in the oil gland near the eye medically termed as seborrhea.
Using low -quality makeup products and not removing eye makeup properly.
Poor eyelid hygiene.
Hormonal changes.
Inflammatory diseases on the eyelids.
Can Stye Lead To Further Complications?
Well, it's a NO in most cases, but rare complications might occur like a stye can become a chalazion, which is due to the full blockage of the oil gland and when it becomes larger it might obstruct your vision. There are cases where when you have blepharitis, you are likely to develop a stye.
There are other forms of eyelid bumps:
Xanthelasma– They are harmless raised yellow patches on your eyelids that can happen with age, and are occasionally a sign of high cholesterol.
Papillomas– They harmless pink or skin-colored bumps but they grow slowly obstructing vision.
Cysts– These are small fluid-filled sacs that can affect your vision.
Symptoms That Confirm The Bump On My Eye Is A Stye?
Every bump on the eye need not be a stye and this how you know so, these are the following symptoms you need to look for when there is a bump on your eyelids.
a. Apart from redness and swelling, there will a gritty, scratchy sensation near the infected region.
b. Your eyes would tear up very often.
c. They will be sensitive to light.
d. You can also observe tenderness on the eyelids.
Treatment
Once you've confirmed that the bump on your eyelid is a stye, the next step is treating it. Generally, styes are better on their own as they would drain and heal in a couple of days, but tolerating its presence and the pain they give is not a cake walk.
Home Remedies:
So I'm going share with you some of the home remedies that will help in the healing process.
1. Say No To Makeup
The first and foremost thing to do when you realize the presence of a stye is to stop using makeup because it will exaggerate a pimple on the eyelid. Avoid using expired makeup products and remove the makeup before going to sleep.
2. Warm Compress
This is an old yet an effective technique to treat bumps on the eyelids. The water compress will increase the blood flow in the affected area removing the pus from the stye and thereby make the healing process faster.
Take a clean, smooth cotton cloth and dip it hot water.
Squeeze out the excess water and place it on the eyes for around 10 minutes.
Repeat this procedure, 4 to 5 times a day and you'll witness a pimple disappear.
3. Aloe Vera
Aloe vera has antibacterial property and anti-inflammatory property which aids in the reduction of a pimple and also the pain and irritation.
Cut a leaf of the aloe vera plant, extract the gel and apply in on the infected eyelid.
Leave it for 20 minutes then wash with lukewarm water.
This procedure needs to be repeated 3 to 4 times a day in order to see a visible change in the reduction of a pimple.
4. Use Tea Bags
Tea bags will have a warm and soothing effect on the bump consequently reducing its size.
Take a tea bag and soak it in hot water and brew it for some time.
After that remove the extra liquid and place the bag on the eye for 10 minutes.  For best results repeat this twice daily.
5. Cleanse Your Eyelids
Keeping your eyelids clean is very important especially when they are infected because any form or dirt in that infected area can cause a lot of discomforts.
Use a no-tear baby shampoo for this purpose as it will not irritate your eyes like other shampoos or soaps.
Follow this method, dissolve few drops of the baby shampoo in warm water and soak a cotton ball in it.
Then remove the excess water after which wipe clean the affected eye using the cotton ball. Make sure to clean the entire eye including the eyelashes.
6. Coriander Seeds
These seeds have anti-microbial and anti-inflammatory properties that will aid in the curing process.
To boiling water add a teaspoon of coriander seeds and mix them well.
Remove from heat and allow the mixture to cool well.
Strain the mixture and wash the affected eye with it.
Keep repeating the process 2 to 3 times a day and you'll see the infection clean up.
7. Rose Water Treatment
Rose water has been used for ages to keep skin fresh and glowing. This rose water also has some anti- bacterial properties that will help in treating the pimples on the eyelids.
The cooling effect that rose water has on the skin will help in bring down the pain on the eye due to a pimple. As it maintains the pH of the skin it will fight the growth of bacteria in the infected area.
Applying rose water several times a day on the affected eyelid will help in resolving the pimple faster.
8. Turmeric
This very famous spice comes really handy in treating styes because of its antibacterial and anti-inflammatory property.
Make a paste with turmeric powder and water.
Apply this paste to the pimple on the eyelid.  Repeating this procedure three times a day will reduce the redness and swelling due to a pimple.
9. Castor Oil
The anti-inflammatory properties of the castor oil will help in reducing the swelling of the bump on the eyelid.
Wash your eye clean and apply a small amount of castor oil on the stye. By doing this thrice a day you'll observe a reduction in the infection and swelling due to the stye.
10. Guava Leaves
For a fact, guava leaves will not reduce the swelling or inflammation due to the stye but they have these amazing anti-bacterial properties that can fight the growth of bacteria causing the infection.
Soak guava leaves in warm water for a couple of minutes.
Remove them from the water and place them on the eye for around 10 minutes.
By repeating this procedure once or twice a day you can get rid of the bacterial infection for your eye.
11. Clove Compress
Clove is another spice that can help reduce swelling and inflammation caused by a stye.
Take a teaspoon of clove and soak it in hot water allowing it to rest for a while.
Once the liquid is cooled, strain the mixture.
Dip a clean cotton cloth in the extract and place it on the infected eyelid for 5 minutes. This will help drain the pus in a pimple naturally.
12. Acacia Leaves
Acacia leaves can be a little to find but they will be available in most of the plant nursery.
These leaves have antiseptic and anti-inflammatory properties that will help fight against fungal infection and reduce swelling.
Take the acacia leaves and wash them thoroughly under flowing water. Then boil the leaves in water and let it rest for a while.
Remove the leaves from the water when it is still lukewarm.
Now place the leave in a clean cloth and damp the cloth with hot water.
Apply this compress over the affected area. Repeat the process 2 to 3 times a day till an eyelid pimple disappears.
The second type of eyelid bump I want to discuss is a Chalazion.
What Is A Chalazion?
It is a soft fluid-filled or firmer lump on the upper or lower eyelid caused due to the obstruction and inflammation of the oil glands in the eyelids called the meibomian glands. A chalazion is also referred to as meibomian cyst, tarsal cyst, or conjunctival granuloma.
A stye is mostly confused with a chalazion which is an eye cyst and will develop when the infection due to a styepersists for a long time. In contrast to a stye, a chalazion is painless.
Causes For A Chalazion
These are some important reasons why you might develop a chalazion.
i. Blockage and inflammation of the meibomian oil glands in the eyelids.
ii. Persistence of a stye over a long duration.
iii. If you've had a history with chalazion there is a chance it might recur.
iv. If you have the habit of touching your eyelids often with unclean hands you are prone to developing a chalazion.
v. Some people will have thicker meibomian glands secreting excesses oil leading to blockage consequently developing a chalazion.
vi. People with acne rosacea are at a greater risk of developing a chalazion due to alterations within the oil glands of the face.
How Do I Confirm That The Eyelid Bump Is A Chalazion?
Chalazion might be similar to a stye but these types of lumps are non-painful while styes can be painful and irritating.
A chalazion is not an infection and it may follow or precede a stye. It will not affect your eyesight but if it's large enough it can distort your vision but this will also subside once the size of the chalazion reduces or if it's removed.
A chalazion is not malignant and it does not have the capacity to become one also nor it is contagious so there is no need to worry.
How To Treat A Chalazion?
Chalazia are not usually a serious problem and rarely obstruct vision. Generally, they will heal within a span of 2 to 8 weeks but I'm going to give you some home remedies that will speed up the healing process. So read on…
1. Massage
Massaging the affected eyelid gently will speed up the process of draining the fluid inside the chalazion and promote quick healing.
Wash your hands clean with soap and water. Apply a warm compress on the affected eyelid for 5 minutes, then gently massage the eyelids in the upward direction. Massage for 2 to 3 minutes, few times daily.
2. Apple Cider Vinegar
Apple cider vinegar can be used in two ways to treat chalazion:
Mix 2 teaspoons of organic, raw and unfiltered apple cider vinegar in a cup of hot water. Dip a ball of cotton in the liquid and rub it over the affected eyelid for 2 to 3 times daily for several days.
The next way is to mix one tablespoon of the apple cider vinegar in one cup of water and drink it twice daily for weeks.
3. Parsley
Parsley helps to draw out the toxic materials from the chalazion. Its mild anti-bacterial agent so if there is an infection it will be treated.
Chop up a handful of parsley and drop it in a bowl of hot water. Allow the water with parsley to cool then drain the mixture.
Dip a clean cloth in the liquid and place it over the affected area for about 15 minutes.  Repeat this procedure 3 times a day for a week.
4. Eggs
Using eggs to treat chalazion will help reduce the bump within a week.
Take a hardboiled egg and place it on the affected eyelid for about 10 to 15 minutes.
This boiled egg will act as a warm compress but it's even better because a hardboiled egg can hold the warmth for a longer time when compared to a warm cloth.
Another option is to treat the chalazion cyst with egg whites. Separate the egg yolk from the egg.
Then take the egg white in a separate cloth and place the cloth over the bump and leave it for 15 minutes.
Repeat this method regularly for 3 times a day to see better results.
5. Onions
In the case of treating chalazia, onions are trustworthy and very effective, strange, right?
But it's true especially the juice of the onion has proven to be extremely beneficial in treating chalazion cysts.
It might cause discomfort at first but will greatly aid in reducing the swelling.
Take a few raw onions and extract their juice.
Drop a bit of this juice on the cyst. Repeat this method regularly to see a visible change.
6. Nutmeg
Nutmeg is a wonderful spice that is added to a lot of food items especially desserts apart from that it is also used for various therapeutic purposes.
It has a lot of medicinal properties and a sweet smell. The essential oil of the nutmeg has powerful anti-bacterial effects that can be employed in treating chalazion cysts.
Take a nutmeg and rub it against a clean stone, to it add drops of clean water and make a paste. Now apply a layer of this paste over the cyst and allow it to dry naturally.
Be careful while you apply the paste, take care that it does not come directly in contact with your eye.
Following this method consistently will cause the chalazion cyst to shrink and dissolve.
7. Bittergourd
Most of us don't like bittergourd but it is considered to be very effective in treating chalazion cysts because of its detoxifying property.
Cut a slice of bittergourd and place it on the affected eyelid and leave it for 15 minutes.
Another method is to prepare a bittergourd tea, adding salt to taste and drink it in empty stomach preferably early in the morning.
This will cleanse your skin from deep inside.
This method might sound a little difficult to follow but I can't deny the fact that it's very effective.
8. Calendula
Calendula is a flower that comprises of many anti-fungal, anti-inflammatory, and anti-bacterial properties so it stands well for treating chalazion cysts and also other fungal infections.
Make an infusion with 0ne tablespoon dried petals of calendula flower with 250 ml of purified water.
Strain the liquid and apply it over the affected area with a gauze and wait for it cool or you can also use this infusion to wash your eyes.
Repeat this 3 times a day.
9. Dandelion Tea
Dandelion is a flower and the tea made from has been used to treat various health problems which include chalazion cysts.
People suffering for chalazia are advised to take dandelion tea on a regular basis this will keep the person from any infection as it aids in killing bacteria.
You can also use the dandelion tea bags as a compress. Just soak the dandelion tea bags in warm water and place it on the affected area for 5 to 10 minutes.
Another way is to make a decoction with dandelion flowers and use it to wash the affected area.
10. Alum
Alum is known for its anti-inflammatory, antiseptic and astringent properties so it is one of the important things that can be used in treating chalazion cysts.
It will help reduce the swelling and pain that a chalazion cyst might in some cases.
Begin by heating some clean water, add to it an a¼ teaspoon of alum and mix them together.
Now soak a clean, soft cloth in the mixture then place the hot compress on the affected eyelid and give some pressure on it, this will help the eye to absorb the heat.
Repeat the procedure, in the same way, a few times.
11. Mint Leaves
Mint leaves have antiseptic, antipruritic and anti-inflammatory properties help to bring down the swelling, reduce soreness and itching caused by the cyst.
Mint leaves are very commonly used to treat chalazion cysts.
Crush some mint leaves and apply in on the cyst as a poultice.
Leave it for 5 minutes and wash the affected area with tepid water.
The third and the final type of eyelid bump that I want to discuss with is Xanthelasma.
What Is Xanthelasma?
The bumps of fat that develop in the inner canthus (corner of the eye where the upper and lower eyelids meet) are called as xanthelasma. These are deposits composed largely of cholesterol so they are sometimes referred to as cholesterol spots and they appear yellowish in color.
Causes For Xanthelasma
I would like to highlight some reasons as to why you might get xanthelasma:
High levels of LDL ( low- density lipoproteins) which is commonly called as bad cholesterol.
People with metabolic disorders like diabetics. Biliary cirrhosis and hypercholesterolemia (inherited high cholesterol) are prone to getting xanthelasma.
In case the cholesterol metabolism of your body changes there are chances for you to get xanthelasma.
This is very interesting, you are prone to get xanthelasma when you undergo emotional stress, fear, low feeling of happiness, dissatisfaction and everything that makes you sad or stressed.
It is common among the people who are between 40 to 60 years of age.
Signs And Symptoms Incidating Xanthelasma
Xanthelasma is basically cholesterol deposits. They are found around the eye region on the upper and lower eyelids.
These spots appear yellow in color.
In most cases, xanthelasma doesn't cause pain or itching but if the bumps grow large they will impede your vision.
Xanthelasma is not a huge problem by itself but it can be a signal that you are susceptible to develop coronary heart diseases in the future, like stroke and atherosclerosis.
How Do I Treat Xanthelasma?
I would not recommend techniques like surgery and laser treatment to treat xanthelasma because the affected area is very close to the eye. In addition, treatments like surgery and laser will result in hyperpigmentation(marks) and scars.
So in this section, I'm going to tell you some methods through which you can treat the cholesterol deposits at home.
1. A Clean Diet
A proper clean diet is fundamental for all health problems and xanthelasma also falls under this category.
First and foremost say no to JUNK FOOD and avoid fried food even it's homemade. Take meals as raw and whole as possible.
Include a lot of fruits and vegetables to your diet, and drink plenty of water. Most important of all stick to your diet plan.
2. Garlic
Garlic is the most common and the best remedy for xanthelasma. It is very beneficial in reducing high levels of cholesterol. The enzymes present in garlic will help flatten and reduce the bumps of cholesterol.
Eat a clove of fresh garlic early in the morning before breakfast or in the night before going to bed. This will help dissolve the xanthelasmas.
For those whose don't prefer eating garlic, you can make a paste with few garlic cloves and apply it on the affected area.
Use a gauze and cover the area to make sure it doesn't come in contact with your eyes. Leave this for a 10 to 15 minutes and repeat this remedy once daily for a few days.
For those opting the second way, make sure that the garlic doesn't remain in contact with your skin for a really long time as it will burn your skin. The second option is a big NO NO to those with sensitive skin.
3. Fenugreek Seeds
Fenugreek seeds have cholesterol-lowering properties so they will aid in reducing the cholesterol bumps.
Take 2 teaspoons of fenugreek seeds and soak them in water overnight.
Drink this water early in the morning in empty stomach daily till the bumps disappear.
You can also apply this water in which the fenugreek seeds were soaked overnight to the area affected.
Follow this method consistently till the cholesterol deposits vanish.
4. Banana Peels
The peels of banana have strong antioxidant properties and the enzymes present in them will flatten and reduce the cholesterol bumps.
Cut a piece of the banana peel and place it over the affected area. Hold it firm using a band-aid and leave it over night.
Next morning remove the band-aid and wash the area with clean water. You can follow this technique before you sleep every night and consequently you'll see the cholesterol spots disappear.
5. Orange Juice
Oranges have vitamin C, flavonoids and folate which play an effective role in increasing the HDL (High-Density Lipoprotein) or the good cholesterol that is needed in your body and decreases the LDL (Low-Density Lipoprotein)or bad cholesterol.
Drink 2 to 3 glasses of fresh orange juice, this will keep a check on your cholesterol levels.
You can also alternate by eating a few orange daily.
6. Almonds
Almonds have the power to reduce the bad cholesterol (LDL) in your body so it is also an effective remedy to treat xanthelasma.
The nutrients that are present in the almonds are will regulate the enzymes that are responsible for bile acid production and cholesterol synthesis.
Soak 4 to5 almonds in water overnight and then eat it along with your breakfast. Another option is to make a paste will milk and almond powder.
Apply this paste on the affected area and allow it to dry. Once the paste dries, gently scrub the paste off with a wet finger.
7. Physical Activity
It is important for your body to indulge in any form of physical activity in order to stay fit and healthy.
It also plays a vital role in keeping high cholesterol levels at bay. So make sure to include physical activity in your daily routine.
You can take up yoga, Zumba, hit the gym for some workout or you can go for a walk.
Regular exercise will also keep your mind fresh and also reduce stress levels which are also causes of xanthelasma.                           
A Word Of Caution:
 Apart from the home remedies I have discussed with you, there are some things you might want to keep in mind when you have a pimple on the eyelids:
Never POP a bump on the eyelid or try to squeeze out the pus as this will cause the infection to spread. Apart the infection spreads, there are chances it might obstruct your vision leading to further complications.
Do not use too much makeup. If you really need to apply makeup make it a point to use only quality products.
Do not share your makeup products with anyone since it might lead to the transfer of infectious bacteria.
Don't share your towels or handkerchiefs with anyone, not even you family members.
Protect your eyes from dust and air pollution.
Maintain a clean and healthy diet.
Exercise for a minimum of 30 minutes daily and 5 days a week.
On an attempt to follow the home remedies kindly make sure that the ingredients that you're using don't come in contact with your eye directly and if they do please wash it off with plenty of clean water.
I believe that"Prevention is better than cure" so if you want to stay away from bumps on the eyelids make sure keep your eyelids are kept clean and hygienic.
When Should I Seek Medical Attention? 
In the beginning, when you observe a bump on the eyelid you can follow the home remedies that I have discussed but if you notice the following, it means that the problem needs medical attention so please consult a doctor.
When you notice obstruction in your vision.
When the bump on the eyelids doesn't heal in a week or two.
The eyelid bump or bumps become very large or painful.
When you have a blister on your eyelid.
When you observe crusting or scaling of your eyelids.
The whole eyelid is red, or the eye itself is red.
When your eyes become very sensitive to light or have excessive tears.
When the bump on your eyelids bleeds.
So, the next time you're having a bump on the eyelid there will be no need to panic because after reading this post I'm sure you can treat it at home. Stay happy, healthy and stay away from those pimples on the eyelids.