Septum piercing is the most trending piercing nowadays. If you are thinking of getting a septum piercing done then, you should know about the most commonly occurring septum piercing infection too.
People often get a septum piercing infection few after getting it done. Though common but, if proper prevention methods are taken it won't happen. However, if you are already suffering from septum piercing infection you can treat it using few of the home remedies.
This article guides you through getting a septum piercing, septum piercing infection possible discomforts, aftercare, and cleaning, as well as the causes and symptoms of infection. You would also read on options to treat septum piercing infections and measures you can take to prevent infections.
What Is Septum Piercing?
Septum piercing is the piercing of the cartilage wall between the left and the right nostrils. It is a type of nose piercing gaining popularity among the youth.
The piercing is usually done on the thin piece of flesh near the front of the nose.
Both men and women get this type of piercing, although it is usually common among women. Some indigenous populations like the Australian Aboriginals practice septum piercing as a part of their culture.
While is can be quite fashionable, septum piercing, like all other types of piercings require care and maintenance, or else the consequences can be dangerous
Getting The Septum Piercing
Ensure that an experienced piercer does the septum piercing for you.
They would usually clean the septum and mark the exact location of the piercing, on the soft area in front of the cartilage. The piercing involves using a sterile needle to puncture the spot and jewelry is inserted in the hole. They would then clean the area once again and then you are ready to go.
Some individuals may not have the thin flesh towards the front of the nose. Such people would have to get their cartilage wall pierced if they wish to get a septum piercing.
Maintaining a healthy septum piercing does require proper aftercare, cleaning and taking adequate measures to prevent it from getting infected.
Septum Piercing Pain And Swelling
It is normal to experience some pain and swelling in the area of the piercing during the first week after you got it done. Once the healing begins, the pain and swelling would gradually diminish.
The pain experienced during the septum piercing varies across individuals. The extent of pain also depends on people's perception of the piercing. While some people experience a slight pain during the procedure, others may find it relatively more painful.
Septum Piercing Healing Time
The time taken to heal the piercing varies from one person to another, depending on age, overall health, and environmental factors.
Generally, septum piercing takes about 6-8 months to heal completely.
You may experience swelling and tenderness during the first two weeks. There may even be mild itching. While these discomforts are mild and ease out with time, watch out for signs of infections or potential complications.
Aftercare And Cleaning Of Septum Piercing
Proper aftercare can quicken up the healing process and reduce the recovery time.
It is normal to observe some white discharge from the piercing site and crust formation.
Cleaning the piercing keeps it free from contaminants that may cause infections. Inefficient cleaning would result in a dirty piercing that harbours bacteria and disease-causing microbes.
1. You can use a salt solution to clean the septum piercing daily.
Make a solution of salt in warm water. Soak some clean cotton in this solution and gently press it on the piercing. Remove the crust that may have formed around it, taking care that you do not rub the area.
Crust build-up promotes bacterial growth, posing the risk of infection. Avoid moving the jewelry or irritating the wound, as this can damage it and delay the healing. Ensure that you leave no salt crystals within the piercing, which may cause irritation.
Dry the piercing after cleaning, using a clean paper tissue. Just pat dry gently, avoid rubbing.
Do this for five minutes and do this cleaning procedure twice a day.
2. Wash your hands thoroughly before you handle the piercing, to prevent contamination.
3. You may experience some mild itching as the piercing heals. However, you are advised against scratching the area. Doing so can irritate the healing skin and damage the wound.
4. Do not touch the piercing unnecessarily or play with the jewelry. This increases the chance of tearing the pierced skin, which can be quite painful.
5. Do not pick at the crust with your fingers, to avoid excess scarring and infection.
6. While changing clothes, be careful to avoid clothes getting caught in the septum piercing. This can worsen the wound and cause pain.
7. Ensure that your bed linen and clothing are clean and free from contaminants.
8. Do not rub or blow your nose, or press the nostrils while it is still healing.
9. Avoid using alcohol-based cleansing agents, which can irritate the healing skin.
10. Do not attempt to remove or replace the jewellery for about 1-2 months while the piercing is healing. Removing the jewelry in this stage can injure the site and delay healing.
11. Refrain from alcohol consumption and alcohol-based products until the piercing has healed.
12. Follow a healthy diet with adequate intake of nutrients and keep hydrated to stay healthy.
Septum Piercing Itching
You may experience itching during the first few days after the piercing. Mild itching and discomforts may be normal as long as you do not experience any other symptoms of infection. Nevertheless, avoid scratching the piercing, as it can aggravate the wound.
Itching can be caused by an allergic reaction and may be accompanied by a running nose and sneezing, in some people.
Salt residues that get into the piercing site can build-up and cause itching. This can also clog the opening and hinder healing.
You must ensure that there are no salt crystals left behind after cleaning. Apply the saline solution on the piercing only after the salt has completely dissolved in the warm water.
Moving the jewelry frequently before the septum piercing heals can result in itching. This can be painful besides slows down the rate of healing.
However, yellow or green fluid discharge or pus from the piercing along with swelling could mean an infection.
Infected Septum Piercing Bump
In some cases, a bump may form on the infected piercing.
The piercing can also result in scar formation, which may heal over time. In some people, the scar may develop into a keloid. This is a type of tumor that forms around an injured area, due to trauma to the skin.
A piercing bump may form due to reasons including injury or trauma to the piercing before it heals, pulling out or replacing your jewelry before healing, poor hygiene, inefficient piercing practices, and the use of poor quality jewelry.
Keloids may cause itching, redness or inflammation of the skin. Keloids on the septum cause swelling of the nose, as they exert pressure on the walls of the nostril. It can delay the healing of the piercing and may cause pain.
It has been found that dark-skinned people are more susceptible to keloid formation than others. Individuals with a family history of keloids are also prone to them. People who have developed keloids during their earlier piercings tend to get keloid with their septum piercing as well.
Symptoms Of Septum Piercing Infection
Septum piercings generally have a higher risk of developing an infection as compared to other types of piercings.
Here are the symptoms of infection you need to watch out for:
Redness around the piercing that persists after 2-3 weeks since the piercing was done.
Yellowish or greenish pus-like discharge from the piercing site.
Pain or tenderness when you touch the piercing.
Excessive crust formation
Bump around the piercing
Painful and swollen septum piercing. It remains swollen for longer than the usual healing time.
Bleeding in some extreme cases.
Causes Of Infected Septum Piercing Infection
The main cause of infected septum piercing are pathogens including bacteria. These arise due to the following factors:
i. Poor hygienic practices and unsterilized needles used while piercing.
ii. Improper aftercare and cleaning, which make it suitable for disease-causing microbes to thrive on the piercing.
iii. Contamination of the piercing by handling it with dirty hands, and other unhygienic practices
iv. Jewelry of incorrect size or material. Certain materials (for instance nickel) are known to produce allergic reactions in some people.
v. Contamination through dirty clothing and bedding.
vi. Using skin care products on the piercing, which may clog the opening, leading to infection.
How To Treat An Infected Septum Piercing?
If you observe mild infection of the septum piercing, here are a few things you can do to treat it:
1. Sea Salt Soak:
Sea salt solution draws out the pus from the infected site and helps to get rid of bacteria. Using a sea salt soak is the most common way to treat infections of the septum piercing.
Mix a teaspoon of sea salt in a cup of warm water and apply this solution on the infected area using a cotton bud or Q-tip, to gently clean the site.
Wipe dry with a clean paper towel. You can do this for 5 minutes over 2-3 times a day.
2. Piercing Solution:
A piercing solution can also be effective in treating infections. H2O clean solution and H2O Sea Salt spray can be used.
3. Tea Tree Oil: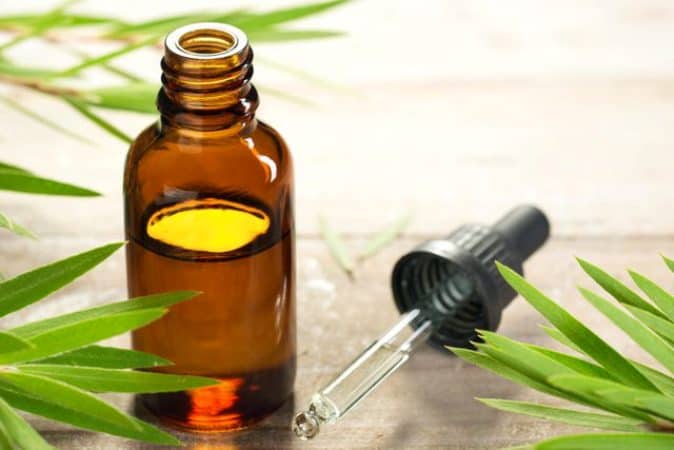 It is a natural way to treat septum piercing infections. Tea tree oil has antimicrobial properties that can kill bacteria and cure the infected septum piercing. It can also reduce redness and itching.
Soak some cotton wool in tea tree oil and compress it on the piercing site gently. This can be done twice a day. You can also use essential lavender oil.
Tea tree oil should be used after dilution, to avoid burning or irritating the piercing.
4. Chamomile Tea Bag: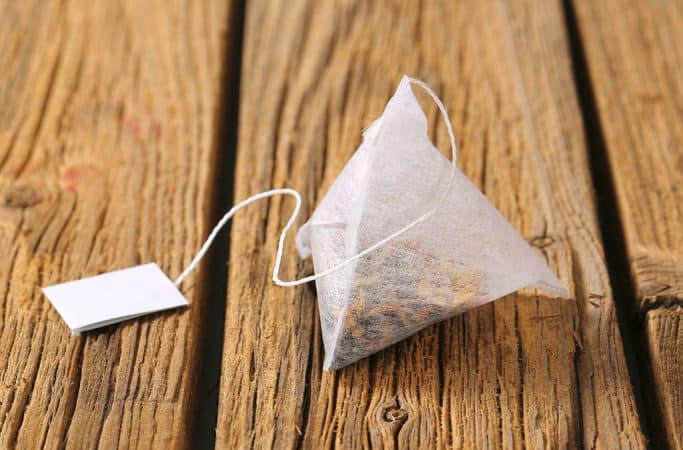 It reduces inflammation of the skin, soothes irritation, and helps to heal the piercing.
To make chamomile tea, put a chamomile tea bag in warm water.
Place it on the infected piercing for about until it cools off.
Then dip it again and apply. This can be done twice a day.
5. Anti-Bacterial Soap
Use an anti-bacterial soap and water to clean the infected piercing site. Rinse off with warm water.
Besides the above treatment methods, here are some measures to take to heal an infected septum piercing.
6. Do not remove the jewelry from the piercing during the infection. Removing the jewelry would lead to closing the hole and formation of an abscess.
7. Do not use alcohol-based cleanser to clean the infected septum piercing.
8. If you are allergic to the metal of the jewelry, get it replaced by the piercer with a jewelry that suits you. Do not attempt to remove or replace it on your own.
If the symptoms are severe and persistent, do not hesitate to consult a doctor. You may be prescribed antibiotics and antibacterial ointments if you have a severe infection. Do not use any ointments or medication on the healing septum piercing unless the doctor advises you to do so.
Risks Of Septum Piercing
Here are the dangers that you might suffer with septum piercing:
i. Unsterilized needles can increase the risk of contracting blood-borne diseases including hepatitis and HIV AIDS.
ii. Unclean wounds and poor hygienic practices can lead to infections. The presence of bacteria around the nose makes it easy to catch an infection. People who suffer from severe allergies may be at higher risk of infection.
iii. Improper piercing can lead to blood and fluid build-up. It may even damage the blood capillaries.
iv. A potential complication of septum piercing is a septal hematoma. Blood can accumulate due to rupture of blood vessels and trauma to the tissues. This causes nasal congestion, difficulty in breathing, inflammation, and pain. This condition can form a hole in the septum and result in a deformity known as saddle nose.
How To Prevent Infected Septum Piercing?
Some ways to prevent infection of the septum piercing include:
Always handle the piercing with clean hands.
Do not play or tug at the jewelry in the piercing. Do not pick at the piercing.
Ensure that you get the piercing done by a professional piercer, using hygienic practices and sterilized equipment.
Use jewelry of the right size and suitable material to avoid allergic reactions or scarring.
Keep your face clean using mild fragrance –free washes. Avoid using skin products that can irritate or clog the piercing.
Don't use strong cleansing agents such as peroxide and alcohol-based products, as these can damage the tissues.
Avoid contact with unclean water while the piercing heals. Keep away from swimming pools and public lakes, which could be a source of pathogens.
Hope, this article helps you with all the information about septum piercing infection.