Hair loss is a common problem for everyone. It also occurs in children. But if your child has distinct bald spots or thinning hair, then it can be frightening.
But you don't have to worry because, with proper diagnosis, most of the hair loss cases can be treated. Hair loss in children can be caused by either medical or non-medical reasons. All these have their causes, symptoms, and treatments.
Home Remedies For Hair Loss In Children
1. Oils
Oils are an effective way to treat hair loss in children. Each oil has its own unique features.
Oils That Can Be Used
Coconut oil
Mustard oil
Olive oil
Jojoba oil
Neem oil.
  Directions
Massage the hair with any one of the above oils.
Make sure the tips and roots of the hair are well covered.
Wash off with cold or lukewarm water.
You can also mix the oils with water and lemon juice for better results.
2. Gooseberry
The rich content of vitamin C in gooseberry helps in hair loss. It is very useful in promoting your child's hair.
Things Required
1 tbsp Gooseberry pulp.
1 tbsp lemon juice.
 Directions
Mix 1 tbsp of lemon juice and gooseberry pulp.
Apply the paste to your child's scalp and massage thoroughly.
Leave it overnight.
Wash it off with shampoo next morning.
3. Apple Cider Vinegar
It is a great remedy for hair loss in children. It gives all the nutrients to your child's body. It also re-establishes alkaline state in the body.
Things Required
Apple cider vinegar
Water
 Directions
Dilute apple cider vinegar with water.
Apply the mixture for six hours.
Finally, rinse off with water.
4. Fenugreek
The hormones present in fenugreek helps in rebuilding the hair follicles. It also enhances hair growth.
  Things Required
Cup of fenugreek seeds
Water
  Directions
Soak fenugreek seeds in water and leave it overnight.
The next morning, grind the soaked fenugreek seeds.
Apply the paste to your child's scalp and cover with shower cap.
Leave it for 40 minutes and wash it with water.
5. Aloe Vera
Aloe vera contains enzymes which promote hair growth in children. They also prevent inflammation, dandruff, and itchy scalp.
Things Required
 Directions
Apply aloe vera gel to your child's scalp and leave it for few hours.
Rinse off with lukewarm water.
6. Onion Juice
The high sulfur content in onion helps the blood circulation to hair follicles. They also prevent hair fall.
Things Required
Directions
Grate one onion and strain to extract the juice.
Apply the juice to the scalp and leave for half an hour.
Wash it off with baby shampoo.
7. Beetroot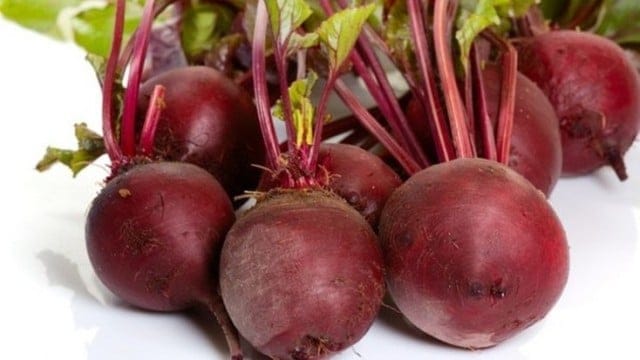 Beetroot contains many vital nutrients that are required for hair growth.
Things Required
 Directions
Boil the beetroot leaves and grind them with some henna.
Apply the paste and leave it for 15 to 20 minutes.
Wash the paste thoroughly.
8. Licorice
Licorice prevents hair fall and damage to the hair. They have mollifying properties and so they can soothe the scalp.
Things Required
1 tbsp ground licorice powder.
1 cup milk.
1 tsp of saffron.
Directions
Mix 1 tbsp of ground licorice powder, 1 cup of milk and 1 tsp of saffron.
Apply the paste to the affected areas and leave overnight.
Wash it off in the morning.
9. Coconut Milk
Coconut milk is rich in proteins and fat and so they are used for treating hair loss in children.  They also promote healthy hair in children.
Things Required:
 Directions
Mix freshly grated coconut with water.
Simmer for 5 minutes.
Strain it and let it cool.
Massage the mixture gently on your child's scalp.
Leave for twenty minutes and rinse off mild shampoo.
10. Yogurt Mask
The vitamins, calcium, and minerals present in yogurt nourish the hair.
Things Required
 Directions
Apply fresh yogurt to the scalp and massage thoroughly.
Leave it for few hours.
Finally, wash off with water.
Diet
The diet of your children must contain a lot of organic vegetables and fruits. Avoid junk foods and take more protein foods.
1. Vitamin A
Dark green vegetables, strawberries, tomatoes, and oranges contain it. It keeps the scalp glands healthy.
2. Vitamin C
It is present in citrus fruits and drinks, and it strengthens the hair.
3. Vitamin E
It is present in green leafy vegetables, and it improves the quality of the hair.
4. Zinc And Iron
It is present in whole grain oatmeal and cereals, pumpkin. Also in molasses, leafy green vegetables and variety of meats.
Coping With Hair Loss
Hair loss can have an emotional impact on your children. It will be embarrassing for the school going children. As a parent, you must give emotional support to your child.
You should always tell your child that he/she is beautiful and hair loss is no shame in hair loss.
You can get them hair accessories like hats, etc. to cover their heads.
If your child is mature enough, give them full information and clarity on their hair loss problem.
If they want a wig, you can consult the doctor of fungal infection and then get them a wig.
What Are The Medical Causes Of Hair Loss In Children?
Most of the children suffering from hair loss have any one of the following conditions. You can consult a pediatric and identify the cause and get it treated.
1. Alopecia Areata
This is a non-contagious condition. It happens when the body's immune system attacks the hair follicles. Alopecia areata features the sudden appearance of oval or round patches of hair loss. The patches can also be slick or smooth. 25% of children also have to ridge and pitting of the nails.
Though there is no treatment for this condition we can control it in some children. In some cases, they get their hair back, and in some children, they may lose hair again.
It also leads to progressive Alopecia areata in 5% of children where they lose all the hair on the scalp. Some of them also lose all hair on the body; a condition called alopecia universalis.
The treatment includes corticosteroid ointments applied to the bald areas of children. Teenagers can take steroid injection calp. Also to the topical steroid treatment, Minoxidil (Rogaine) is being used. If the treatment is being followed hair growth can come back in 8 to 12 weeks.
2. Tinea Capitis
TineaCapitis is a contagious fungal infection in children. It is well known as ringworm on the scalp. It is often characterized by scaly round or oval patches of hair loss on the head. They also cause the appearance of black dots on the scalp because of the broken hair at the surface of the skin.
You can undergo a microscopic examination to confirm this disease. You can take oral antifungal such as griseofulvin for eight weeks for treatment.
Your child should use anti-fungal shampoos like ketoconazole or selenium sulfide. It will suppress the shedding of the fungus. Your child should not share objects that touch their head like hats, brushes or pillows.
3. Telogen Effluvium
Telogen Effluvium is the hair loss being caused by severe or sudden stress, high fever. The death of loved ones, medicines, surgery under anesthesia is some other reasons.All these interrupts the normal hair growth cycle.
The hair follicles stop growing and enter a resting phase known as telogen phase. Then hair starts shedding between 6 to 16 weeks which leads to baldness
There is no diagnosis or treatment for this condition. Once the stressful event comes to a halt, the hair growth may return within six months.
4. Trichotillomania
Hair shaft trauma or physical stress to the hair causes hair loss in children. This includes the children rubbing, plucking, twisting and pulling the hair. This condition is Trichotillomania. The patches are visible on the dominant hand side of your children.
This condition is mainly due to stress and anxiety. The best way to rectify this problem is through counseling.
5. Endocrine Problems
Hyperthyroidism can also cause hair loss in children. Blood test and the scan of the thyroid gland can diagnose this condition. The treatment depends on the following
The age, health and medical record of your children.
Expectations for the course of the disease.
The extent of the disease.
Your opinion or preference.
The tolerance of your child to specific therapies, medications, and procedures.
6. Nutritional Deficiency
Nutritional deficiency can cause hair loss, but it is less common. The deficiency includes vitamin H or Biotin, and Zinc. Too much of vitamin A can also cause hair loss. By following a healthy and balanced diet; you can end this problem.
Non-Medical Causes Of Hair Loss In Children
1. Usage Of Harsh Chemicals To Treat The Hair.
2. Drying Hair With High Heat.
3. Vigorous Brushing And Brushing On Wet Hair.
4. Pulling The Hair Into Tight Ponytails Or Braids.
You should consult if large amount of hair starts falling. If the scalp develops a rash or it becomes scaly, then you should take your child to the doctor.
Treatment For Hair Loss In Children
Once you notice severe hair loss in children, immediately consult the doctor. There are different ways of treating different types of hair loss. So go to a dermatologist to analyze the scalp and growth patterns. Also, determine the cause and course of the treatment.
FAQs
1. Is Hair Loss Normal?
According to research, 80 million people have hair loss. But if you have thinning hair, patches or significant loss then you should consult the doctor.
2. What Causes Hair Loss?
Injury, illness, disease, hormonal imbalance can also cause hair loss. Prescription medicines and harsh styling practices are also other factors.
3. Can My Child Get Hair Growth After The Treatment?
This depends on the type of hair loss condition your child has developed. If proper treatment is being taken, then your child can get the hair back.
4. How Can We Stop Hair Loss?
The best way to stop hair loss is consulting a hair loss expert. All the hair loss solutions will be completely customized to your specific needs. It will also give you natural-looking results.
5. Is The Treatment Safe For My Children?
Yes, the treatment is safe for your children.
Some people consider hair loss as the end of the world. It is not true. We have treatments to cure hair loss. Maintain the health of your children. Consult a doctor for proper scalp analysis. Always give your children lots of care and love especially when it comes to health.