Most of you do know about the amazing benefits of glycerin, and that is why we use it in our day to day life.
But, there are many other excellent benefits of glycerine that are remained untold. Below is the detailed list of the fantastic uses of Glycerine.
Glycerine For Skin
1. Moisturizer
Not that we already don't know about how effective Glycerine is as a moisturizer on the skin. By making your skin absorb water from the air, it reduces the dull and dry patches on your skin.
This makes it very useful in winters. You can apply it directly by dabbing it with a cotton ball onto the skin, and it will serve as an excellent moisturizer.
Don't you love the feeling how, just by a little application of Glycerine, your skin turns smooth and soft? It not only instantly hydrates your skin but also makes it healthy.
2.For Oily Skin
Do you sweat a lot? Does your skin produce excess oil? To remove the excess oil from the oily skin, apply glycerin in a mix with honey and milk. This excellent mixture not only helps remove the excess oil but also reduces sweating.
3.For Dry Skin
With aging, skin starts to look dry and gets prone to redness, irritation, and many other conditions, especially dry skin as it loses its capability of retaining moisture.
Although your skin gets rough while aging, using glycerin on a daily basis can help your skin smoother and prevents other problems linked with dryness. Glycerin fills in the minute cracks in the dry skin and thus, causes a soothing effect on your skin.
4. Glycerine As A Humectant
Glycerine is brilliant in maintaining water balance. The Humectants in glycerine help in retaining water in the skin by attracting water from the air.
When you apply Glycerine to your skin, due to evaporation, the water loss is minimized and therefore, skin's water balance is maintained on an intercellular level which keeps the skin thoroughly hydrated and well nurtured.
5.Protects Skin
The outer layer of the skin is essentially needed to work as a natural blockade to save your skin from pollution and disease-causing bacteria.Due to its twin ability, glycerin works both as a hydrating agent for your skin as well as cracks filler in dry skin. By keeping the outer layer of your skin intact, it protects your skin from damage.
6. As A Cleanser
To get rid of dirt and dust from the skin, you can use Glycerine as a cleanser by simply mixing it with rosewater. For skin cleaning and pore cleansing, apply this mixture daily before you go to bed. The continuous follow-up of this method will be helpful for your skin.
7. Nourishes Your Skin
It's a very well known fact that Glycerine is used in many beauty products due to its nourishing properties. Do not forget to mix your favorite moisturizer with glycerin and apply it on your skin daily to keep it soft and supple.
8.Skin Glow
Glycerine acts as a soothing agent that keeps your skin moist, smooth and pliant to touch. It's therapeutic effects not only makes your skin look appealing but also healthier, instead of the rough looks and other characteristics of the dry skin.
9. Anti-Ageing Treatment
As your skin ages, it cannot retain moisture, and this causes coarse, dry skin that is prone to soreness and redness. Wondering what you can do with Glycerine such that your skin ages healthily and beautifully?
All you have to do is break an egg white (it helps to remove impurities) into a bowl and add one teaspoon of honey (keeps skin clean and soft), followed by one teaspoon of glycerine to it.
Mix all the ingredients well and apply it gently onto your face by moving your fingertips in an upward circular fashion. After leaving it on for 20 minutes, rinse it off with lukewarm water.
10.Acne Treatment
To all those out there suffering from an acne breakout, here's a solution. All you need is one tablespoon of glycerine, 1/2 tablespoon of Borax powder and camphor.
Take them in a bowl and mix with a cup of distilled water. Carefully apply it on the affected area and wash it away with lukewarm water, this opens the pores. After  5 minutes, wash your face again with cold water, this will close those pores.
11.Blackhead Treatment
Want to get rid of blackheads naturally? Then, make a paste of one tablespoon of fuller's earth (popularly known as Multani Matti), four tablespoons of almond powder and two teaspoons of glycerine in a bowl. Apply this on the blackheads. Once it dries, wash it off with cold water.
Glycerine for Face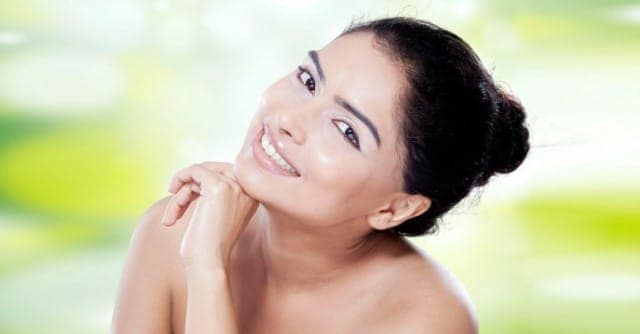 1. For Face Whitening
It is recommended to choose all natural vegetable glycerine, which comes from plant-based oils while dealing with skin care. Glycerine acts as an emollient that forms a shielding oily layer over the skin to lock in moisture.
It can also be added to your skin care treatment for rough, itchy skin; perhaps, you can use it as an exfoliant too. But remember not to use Glycerine on sensitive parts such as your eyes.
Tip: Want to make a homemade glycerine cleanser for your face whitening?
Here's how you can do it. Make a mixture by blending equal parts of cornstarch and glycerine. Add enough water to it to thin the mixture and then, heat it for a few minutes over a double boiler until it thickens.
Once it is cooled completely, scrub the mixture onto your face. Apart from this, Glycerine can also be added to fuller's earth which can be used as a facial mask.
2.As Night Cream
Now that you already know that Glycerine makes your skin fair and faultless, you can apply a homemade face mask or creams at night for skin-whitening.This beauty tip will not only lighten the complexion but also makes your skin flawless when used regularly.
Want to reduce naturally hyper-pigmentation, dark spots, and freckles? Then this method is simply the best to fade away all the skin mentioned above ailments.
Tip:Mix lemon juice, glycerine and rose water in equal amounts and gently massage your entire face with this mixture for few minutes.After leaving it on face overnight, you will feel a fair and lovely face by morning.
3. As A Toner
Glycerine wonderfully moisturizes your skin without actually making it look oily. Also, Rosewater, which re-freshens and soothes the skin, is known for its ability to reduce skin irritation and maintain the pH balance of the surface.
Tip: This toner can easily be homemade by mixing the jointly 1/4th cup of glycerine and 1/2 cup of rose water. You can store this liquid in a spray bottle and spray it on your face whenever your skin feels dry.
4. As A Moisturiser
The moisturizing effects of Glycerine are already well known. Glycerine works its best during winters by safeguarding our tender skin from developing cracks.
Tip: Take about 200-250 ml of glycerine in a bowl and add two tablespoons of fresh lemon/lime juice to it.Blend these two ingredients well and store the homemade moisturizer in a glass bottle. Apply it with either your fingertips or cotton wool, and let it soak up into your skin. You can use this moisturizer at night before you go to bed.
Glycerine For Hair
1. Maintaining The Length
While most of you don't know, let me tell you, only healthy hair can grow sooner and reach to the adequate length.So, there is no use for girls to do keep your hair without any care and expect it to grow longer.
If you have damaged hair or lots of hair fall, you can apply glycerine to your hair which will moisturize your scalp. Thereby, hair growth will be buoyant, and chances of long hair will be possible.
2. Retaining The Moisture
Not only your skin but also your hair requires moisture. Moisturise your scalp regularly with glycerine; this will improve your skin layer.
3. Eradication Of Itch
Not that we don't know how our skin gets dry during winters. But did you know that our scalp gets dry too, and it needs enough moisture?Yes, during winters, your scalp turns dry and itchy. Want to get rid of the itchy scalp? Simply apply glycerine onto your scalp and leave it.
4. Stopping Dandruff
One among the major problems of many individuals out there. Yes, you guess it right, glycerine, when used regularly, can also stop dandruff.What is more interesting is that it has soothing properties which have a cooling effect on your scalp which makes eliminating dandruff easier.
5. Stopping Split Ends
With long length hair, comes the problem of split ends due to the pollution and other related issues.Don't you worry; glycerine also helps to treat split ends.
Tip:
Mix 1 egg, two tablespoons of castor oil, one teaspoon of glycerin and one teaspoon of apple cider vinegar and then apply this mask right from roots to the tip of your hair.
Massage gently and then wrap your hair with a warm towel. After leaving it for 40 minutes, wash your hair with a mild shampoo.
Apart from less formation of split ends, this hair mask is also useful for strengthening and moisturizing the hair, along with less breakage of hair.
6. Hairspray
You can now make yourself a hydrating glycerine hair spray by mixing equal measures of vegetable glycerine and water.
If you wish, you can also add a few drops of essential oil of your choice to it. Shift it to a bottle and after shaking well, spray on damp hair.
You can take this spray bottle anywhere and apply this as a leave in treatment to get soft and manageable hair as well as to maintain the curly hair. Additionally, it also works as a good conditioner for the hair.
7. Frizzy Hair Care
While most of us worry about the frizzy hair, what bothers us more is the unmanageable side effects of curly hair which leads to hair loss and damaged hair.
Due to the low moisture in the hair, it gets frizzy. Therefore, regular application of glycerine can help us treat frizzy and unconditioned hair. These help you to deep condition your hair at home.
8. Shiny Hair
Take 1 tbsp of castor oil in a bowl and beat it well. To it, add a teaspoon of glycerine and another teaspoon of cider vinegar.
After mixing all these ingredients well, massage it onto the roots of your hair. Leave it on for 30 minutes and then rinse it off with a mild shampoo. Follow this procedure once every week, to get glossy, strong and healthy hair.
9. Oil And Glycerine
Apart from all the above benefits, you can also use glycerine with the oil that you casually use for your hair. While most of you know how good Coconut oil is for your hair, you can also add a few drops of glycerine to it when you massage it on your scalp.
Leave it overnight and shampoo off in the morning. In the case of dry hair, you can use olive oil with glycerine for your hair.
Glycerine For Lips
Dark lips, god forbid one doesn't have them. One of the reasons for dark lips is dryness.
Now that you know Glycerine can help you to maintain the moisture in your lips, simply apply it on your lips and leave it overnight.
Being a natural skin softer and holding agents that unite moisture and skin together, glycerine can also be used to make a homemade ointment.
You can make a homemade ointment using one teaspoon of glycerine, one teaspoon of lemon juice and one teaspoon of castor oil.
Spread this mixture on lips overnight for plump; soft lips in the morning. The best thing is that you can also refrigerate the leftovers for future use.
Glycerine For MouthUlcers
Glycerine can also be used to treat mouth ulcers. For this treatment, prepare a paste of a teaspoon of glycerine blended with a pinch of turmeric. After the application of this paste over the affected area, leave it for about 15 to 20 minutes.
This will help treat the mouth ulcers because of the healing properties of turmeric accompanied by the soothing cum cooling effect of glycerine.
Other Uses Of Glycerine
All the above details are concerned only about the application of Glycerine externally. But did you know that Glycerine can be taken internally as well?
Glycerine, when taken by mouth, is used to cure certain conditions in which there is amplified eye pressure, such as glaucoma.It is, sometimes, also used before eye surgery to decrease pressure in the eye.
Glycerine (Oral Route) is a medicine, which is available in the dosage forms of spray or a solution, is accessible only with your doctor's prescription.
Although this use is not included in product labeling, glycerine may also be used in certain patients with the Cerebral edema (swelling of the brain) medical condition.
So, next time when your doctor prescribes Glycerine doesn't be surprised because Glycerine can also be used for other conditions as determined by your doctor.
Do's And Don'ts Of Using Glycerine
1. Face
Instead of using glycerine directly on your face, it is advised to dilute it with water. It is best to use rosewater instead of dilute water.
They say, 'too much of something is also not good for you.' As the quote says, too much of glycerine on your face can also be harmful as it leaves your skin over-hydrated.
2. Skin
Glycerine is already sticky, so ensure you wash off any excess glycerine before you walk outside your place. Else, the tackiness will attract the dust and pollution to your face. Avoid using glycerine with lotions that are already sticky.
3. Hair
If you have recently used a permanent dye or a semi-permanent dye or any color on the hair, then do not use glycerine.
This is because glycerine can easily suspend and remove these colors. Not only that, but it may also speed up the usual fading process.
4. Mouth
If you have a sensation of dry mouth, then consider not using glycerine or lemon mouthwashes.
Also Read:
17 Homemade Skin Tightening Masks to Uplift Your Face Naturally
Make Your Hair Shiny & Soft With These Homemade Natural Hair Masks