There are numerous ways to lose weight fast. However, most of them make you hungry and sluggish at the end of the day.
Losing weight is a positive change. The body curves not only gives you the admired look but comes with a lot of health benefits too.
To help you out, we have come up with a fat-torching plan that will help you lose up to 40 pounds from your body in 2 months. It will be without starvation, bizarre supplements, or cutting out entire food groups. 
You will learn how to safely lose 40 pounds in 2 months by changing your lifestyle and your attitude towards your body and food.
Diet To Lose 40 Pounds In 2 Months
"Your diet is considered as your bank account. Good food choices are referred to as good investments."
When dealing with weight loss, diet is the most crucial factor.1
The basics of dieting is simple- The less and healthy you eat, the more you lose. A lot of people confuse "less eating" with "starving". Both the things very completely.
Starving denotes "Not eating anything at all". It means not providing your body with optimum and required nutrition. Whereas, "less eating" here, is "eating enough of health to sustain your body".
Thus, there are few dietary changes you need to make to lose 40 pounds in 2 months!
Scientific studies suggest to reduce 40 pounds, you need to intake 1200 – 1400 calories in a day. For the same, you can also look into out 1200 calories per day plan. But for now, let's move on to the 2 months action plant to lose weight fast.2
Additionally, if you wish you can also follow the 7-day weight loss diet plan once a month during the period.
In this diet your every meal should be designed to be of 350 – 450 calories. And the mid snack meals should not be more than 100 calories. This diet is safe and effective can be followed by teenagers and adults.
Diet For Losing 40 Pounds In 2 Months
There are some basics to every diet. This diet also requires you to stick some diet choices throughout the two months to get successful results.
Down below is a list of dietary choice that you should opt for in this weight loss journey.
1. Add Green Tea To Your Routine
According to a recent study, green tea drinkers burn about 70 EXTRA calories in 24 hours.  It equals about 7.3 pounds every year!
According to the research, it is because of the antioxidants present in green tea, you tend to reduce weight. These antioxidants enhance metabolism and thus lets your body burn fat in a much faster rate. The antioxidants present in green tea are called "Catechins".3
The Best Way To Have Green Tea
Take a kettle and pour some water. Let it heat for a few minutes.

Put a teaspoon of green tea.

Add a spoon of Honey followed by two teaspoons of fresh lemon juice.

Stir well. Give it a boil and then strain.
Have it in the morning, empty stomach. You can also have a cup of green tea before hitting the gym or your exercise routine and one during the evening time. Make sure not to drink more than 3 cups of green tea in a day.
2. Water Is Your Best Friend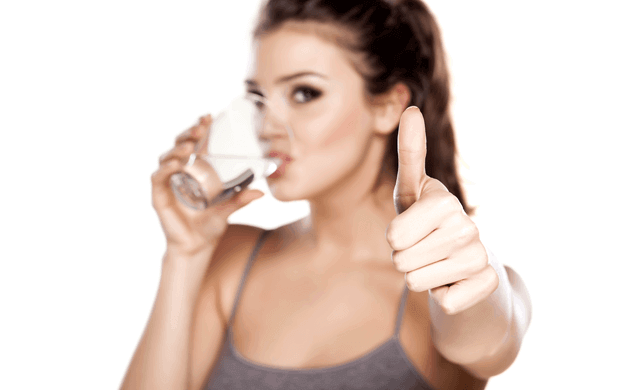 No matter what diet you follow, water is a must!
A research stated that consuming a good amount of water every day increases the burning rate of calories you consume and thus reduces weight.4
Consuming water helps your body cool down. This helps you burn even more calories as your body will have to work to maintain the body temperature. It also clears out toxins from your body.
Interestingly, water also keeps your stomach full and so in a way stop you from consuming more and more calories.
One must have at least 8 glasses of water every day. If you do so, you will notice an increase in the pace at which you are losing weight.
3. Cut Down On Sugar
Once you develop a sweet-tooth, you can not get rid of it. You start consuming more and more of it day by day.
Sugar and sugar products escalate weight gain as they have loads of calories in it. It is an unhealthy ingredient which you have to cut down to an exorbitant level to reduce yourself on the weighing scale.5
If you crave sugar or you have a habit of eating sweet, try going for substitutes. For eg, you can put a spoonful of honey in lemonade or oatmeal or coffee, in place of sugar.
Some other healthy sugar substitutes include-
Maple syrup
Agave nectar
Applesauce
Raisins
Brown rice syrup, etc.
However, we would suggest you, to consume sugar-free dishes for a span of these 2 months to attain faster desirable results.
4. "Don't Skip Meals"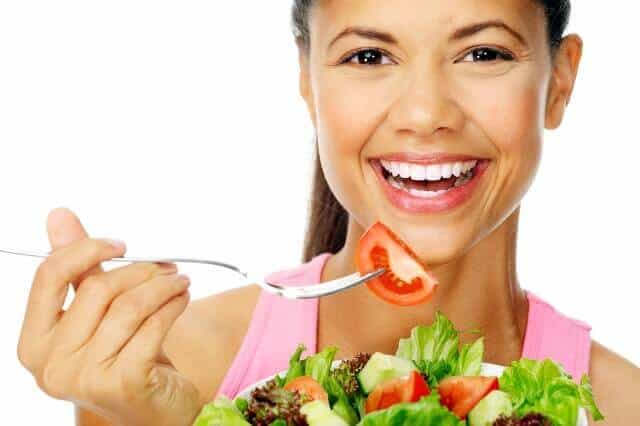 It's a myth that skipping a meal would lead to weight loss. Skipping meals is not going to make you lose weight any faster. Every meal of the day is important for your body and overall health.6 
Here is how you need to manage all your meals-
a. A Healthy Breakfast
Breakfast should be your priority meal. Many people think avoiding breakfast would help them lose weight quickly but that's a total myth.The strategy always backfires, leading to extreme hunger, excess eating and eventually- weight gain!
To make your weight loss effort successful, you need to give importance to breakfast. Have a fulfilling nourished breakfast. Your breakfast should have enough energy to keep you going the entire day.
b. Mid-Meal (Between Breakfast And Lunch)
Mid-meal is the small meal that you will have 1-2 hours after the breakfast and before lunch. After breakfast, there is always a hustle in the stomach. This is the time when you feel like opting for some unhealthy choices like chips, desserts, drinks, etc.
So, make sure you have to satisfy your stomach by grabbing some healthy and low-portion snacks during this time.
c. Lunch
Lunch holds a primary cultural importance in most part of the world. Your digestive fire is highest during this time so, your lunch should be heavy.
The mid-meal would not fill your stomach up. Thus, having a well-portioned lunch is important. Lunch keeps your metabolism active. Moreover, whatever you consume is metabolized quickly.
d. Evening
The time around 4-5 in the evening is the time for evening snacks. Just like the mid-day meal, you can have low-portion healthy snacks at this time.
Grab a cup of green tea along with digestive biscuits or low-fat snacks. You can also grab an apple or any other fruit if you wish too.
e. Dinner
Your dinner needs to be smaller as compared to the other meals of the day. It is because the activity gradient and your digestive fire reduce by the end of the day unless you are working at night.
However, skipping dinner isn't recommended. It is true that dinner needs to be lighter than the other meals, but skipping is never a healthy option.
Skipping dinner will leave a large gap between your last meal and the next day's first meal and thus may make you bloated. It can also lead to acidity, increased hunger, sleep deprivation and more.
Make sure that the portion size is right and that you have your dinner 3 hours before you go to bed.
Meal Plan To Lose 40 Pounds
1. Meal 1 – Breakfast
A two-egg omelette loaded up with tonnes of veggies- red peppers, kale, and spinach, or a mix of asparagus, thinly sliced fennel, and mushrooms.
OR
If eggs aren't an option, blend half of a frozen banana with 1/2 cup of frozen blueberries.
OR
2 slices of whole wheat Bread with peanut butter. Also have a low-fat milk and a banana.
2. Meal 2 – Brunch
An apple or any other fruit.
OR
A small orange with 6 almonds, Sugar-free Yogurt
3. Meal 3 – Lunch
A green salad topped with grilled chicken or fish. Dress with olive oil and lemon juice as a healthy lunch.
 OR
Stir-fry chicken breast with water chestnuts, shiitake mushrooms, broccoli and snow peas. Season with soy sauce and serve over 1/2 cup of brown rice.
  OR
Homemade lentil or vegetable soup along with half of a turkey sandwich.  Accompany it with 100 percent whole-wheat bread. It is another lunchtime option with fibre, protein, and vegetables.
4. Meal 4 – Evening Snack
Grab an apple with Green Tea.
OR
Have Green Tea with Digestive Biscuits
OR
Sugar-free Yogurt, 2 cups of green salad( fat-free)
5. Meal 5 – Dinner
Have 1/2 to 1 cup of seasoned black beans with 1 cup of quinoa, a few slices of avocado and salsa.
OR
Pick up a rotisserie chicken and serve yourself about 4 skinless ounces. Along with it take a small whole-wheat roll and a spinach salad. Top it with an ounce of feta, cherry tomatoes, and olive oil-balsamic dressing.
 OR
Broil flank steak seasoned with dried thyme and oregano. Have it with 1 cup of 100 percent whole-wheat pasta tossed with fresh basil and chopped tomato.
OR
4 ounces of grilled salmon with 1/4 cup of brown rice.
Foods To Eat And Avoid
While on this diet, you need to really focus on a number of carbs you consume.
Check out the number of calories you meal has before consuming it. 
Here Are Few Less In Carbs Food
Lean meat, chicken
Milk
Fish of all types
Egg whites
Most vegetables INCLUDING- Broccoli, Cauliflower, Spinach
Most fruits
(No matter what you eat, keep an eye on the portion size as portion control is the key.)
Foods To Avoid
Fast food
Fried food
Sugar
Processed food
Packged Food
Some Extra Tips
1. Workout
Any amount of physical activity will provide pace to your weight loss process.7 Cardiovascular exercises increase your heart rate and thus help you burn more calories and also speeds up your metabolism.
It is not necessary to join a gym, you can do a lot of things on your own too. Alternatives to the gym are jogging, walking, dancing, yoga, and Zumba.
2. Go On An Evening Walk Regularly
It has been noticed that the metabolism of many people slows down by the end of the day. Thus, make an evening walk a routine.
Thirty-minute walk every day, will increase your metabolic rate leading to faster weight loss.
3. More Routine Exercises
Here are a few exercises that you must do every morning along with the prescribed diet to achieve your goal of losing 40 pounds!
Jog in place (4-5 minutes)   
Jumping jacks ( 200)   
Squats ( 50-75, Take a gap of 2 minutes after every 25)
Planks ( Same as above)
crunches
Bicycle crunches
Plank walks
Pushups
Clamp crunches
You can also join aerobics, Zumba, kickboxing, power yoga classes! They are also really effective.
Devote 30 minutes to One hour every day to exercise. A 30-minute session of exercise along with walking would help you burn up to 700 (approx.) calories.8
Pick any of the above-mentioned exercises and do at least 3 rounds of all! Indulging in these would not only help you lose weight, but will also give you a perfectly carved body.
5. Daily Habits
Keeping yourself physically active throughout the day is important for weight loss. Physical activities do not only include these heavy exercises but a lot more than that. Slight change in habits can do wonders! Such as-
Take stairs in place of escalators and elevators

Try walking to nearby distances, rather than using vehicles.

Don't keep sitting at one place for a long time. Try doing your works on your own, keep moving.

If you have A long phone call to attend, keep walking while you talk.

Taking the dog out, gardening and housecleaning increase the number of calories you can burn.
Some Other Things To Keep In Mind While You Are On The Programme
1. Prefer Home Cooked Meals
Eating outside may ruin your diet. Home-cooked food is healthier and has a controlled portion. A home-cooked meal is always fresh and low in calories than outside food.
Carry healthy lunch from home to college or work. Avoid eating at cafeterias, canteens.
2. Sleep On Time
Sleep deprivation/lack of sleep may also make you gain weight. It lessens your ability to think and function.
It decelerates your metabolism and augments your appetite. Thus, make sure you get at least 7- 8 hours of sleep every night.
3. Fill Your Pantry With Healthy Food
Go through your pantry, and discard all the noodles, pasta, chocolates, and other packaged snacks. Once you get rid of all these "unhealthy" snacks, you will be left with an option of either eating healthy or not eating at all. 
Fill up your pantry with the healthy vegetables and fruits.
Final Talk
The diet might be a little tough for you initially, but in a weeks time, it will be effortless as it will be a habit. However, never overstress yourself as it might lead to emotional eating and disruption of body's metabolism.
Make sure to give your best. If you wish to give yourself a cheat meal (Once a week). Avoid getting frustrated and be all calm and patient while you are on the plan. It might take some time, but it will be worth it.
Also Read:
GM Diet Plan to Lose weight in 7 Days.
1500 Calorie Diet Plan To Lose Weight Fast
1200 Calorie Diet Plan To Lose Weight In A Healthy Way
How To Lose 20 Pounds In 2 Week.
Complete ayurvedic guide to weight loss